8 Benefits of Wearing Cotton Linen Clothing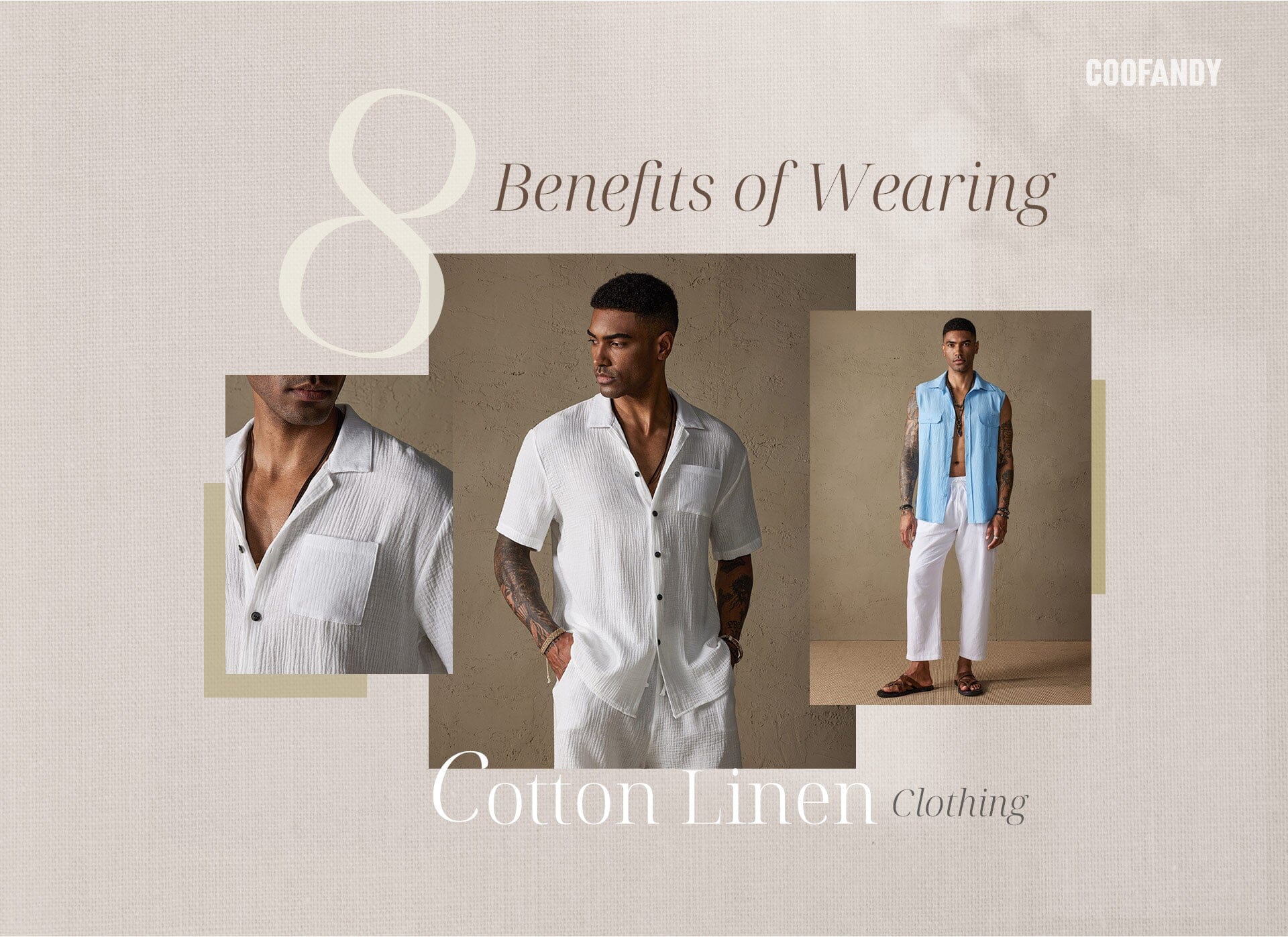 Navigation
When choosing fabrics for clothing items, cotton linen blends are an excellent option to consider. These fabrics made from natural plant fibers offer numerous advantages that make them a top pick for all sorts of garments. Here is an in-depth look at 8 of the key reasons why cotton linen is a great choice for comfortable, sustainable everyday wear.
1.Cotton Linen Has Outstanding Breathability
One of the hallmarks of quality cotton linen fabric is its exceptional breathability. The natural fibers allow air to freely circulate, preventing moisture build-up. This results in cotton linen being able to effectively regulate body temperature and keep you cool and comfortable. The fabrics are ideal for wear in hot, humid climates where staying dry is a must.
Cotton linen also has remarkable moisture wicking capabilities. The fabric is very effective at absorbing any sweat or moisture on the skin and spreading it out across the fabric to speed up drying. This moisture wicking property works to actively pull perspiration away from the body. Even during intense exercise or activity, cotton linen will keep skin feeling dry and comfortable. You won't end up drenched in sweat thanks to the fabric's superlative moisture management.
Between the moisture wicking and breathability, cotton linen is hard to beat when it comes to delivering cool comfort. From casual weekend wear to athletic attire, you'll stay dry and fresh in these fabrics.
Casual Solid Color Cotton Linen Short Sleeve Shirt Set
The Texture of Cotton Linen is Soft and Smooth
In addition to moisture control, cotton linen feels downright luxurious against the skin. The fabrics are renowned for their ultra-soft, smooth texture that feels gentle and comfortable. Cotton linen gets this soft hand from the fine, supple weave of the natural plant fibers. The end result is a beautifully lightweight fabric with a slightly glossy look.
Cotton linen drapes gracefully and just skims the body for a relaxed, yet put-together silhouette. The smooth surface resists wrinkles and clinging to the skin. For those with sensitive skin, cotton linen offers a welcome cocoon of softness that prevents irritation. Every movement is accompanied by the sensuous whisper of this lightweight material. The softness simply makes cotton linen a joy to wear from waking to bedtime.
Cotton Linen Sleeveless Button Shirt with Pockets
Hypoallergenic Nature is Gentle on All Skin Types
One of the biggest advantages of natural fibers like cotton and linen is that they are generally hypoallergenic. This means the fabrics are free from harsh chemicals and substances that typically cause allergic reactions or skin irritation. Cotton linen clothing is an excellent option for those with sensitive skin or skin conditions like eczema or contact dermatitis.
The hypoallergenic properties stem from the fact that cotton linen fiber contains no synthetic dyes, chemicals or finishes. There is a lower risk of the fabric causing inflammation, rashes, or redness even after prolonged contact with skin. Those who experience reactions from synthetic materials like polyester can wear cotton linen worry-free.
Of course, no fabric will be hypoallergenic for every single person. But cotton linen clothing provides a much safer choice compared to synthetics. Those with medical conditions like atopic dermatitis can also usually tolerate pure cotton linen well. This makes the fabrics versatile for babies, kids and adults alike.
Cotton Linen Has Excellent Durability and Shape RetentionCotton
While supremely soft and lightweight, cotton linen fabrics are also quite strong and demonstrate impressive durability over years of use. The natural fibers are tightly woven together to create a look that lasts. Cotton linen resists shrinking, stretching, and sagging far better than materials like cotton jersey.
With proper care, cotton linen clothing will retain its flattering shape and silhouette season after season. Pieces made of linen stand up especially well to frequent wear and laundering. The longevity means cotton linen garments represent a smart investment since you'll be wearing them for many years into the future.
Cotton linen clothing will see you through countless adventures while maintaining its integrity. These hardworking fabrics can withstand regular activity while keeping their polished look. Thick linen pants and casual cotton shirts are fitting accompaniments for everyone from world travelers to busy parents running errands.
Cotton Linen Has Moisture Absorption and Quick-drying Capability
Not only does cotton linen excel at wicking moisture away from the body, the fabric is also very absorbent. The natural fibers readily soak up large amounts of moisture without becoming waterlogged. A linen or cotton linen blend shirt will easily absorb sweat during a workout without feeling heavy and damp.
Because cotton linen allows such good air circulation, any moisture the fabric absorbs also dries quickly. You won't have to endure walking around in soggy, wet clothes after getting caught in the rain. Cotton linen releases moisture rapidly back into the air through evaporation. Moisture simply doesn't overwhelm the fibers as it does in some synthetics that hold onto water.
The quick dry performance makes cotton linen the ultimate traveling companion as the fabric adapts well to washing and drying under all conditions. Whether hand washing garments in a sink or machine drying, you'll be back in action in no time. The moisture management provides welcome relief on steamy days.
Versatility
From tailored blazers to casual shorts, cotton linen has an astonishing versatility. The fabrics blend a crisp, tailored look with undeniable comfort that suits many applications. Linen pants look just as great paired with a t-shirt at the beach as they do dressed up for dinner out.
Cotton linen clothing works year-round, as the breathable, moisture wicking properties are welcome in the heat while the absorbency provides warmth in the cooler months. The fabrics take to printing and embellishments beautifully for endless styling potential.
Shirts, pants, jackets, even socks and sleepwear, you name it, and cotton linen can elegantly become it. The fabrics have a distinctive personality all their own while still being perfect for basics. For travelers and minimalists, cotton linen clothing offers endlessly mix and matchable possibilities.
From light and gauzy to thick and comforting, cotton linen delivers tangible quality at a range of price points. They bring joy to dressing thanks to their versatility and ease of wear. You simply can't go wrong incorporating more cotton linen pieces into your wardrobe.
Cotton Linen is Environment Friendly and Sustainable
In addition to their comfort and performance, cotton linen fabrics have environmental benefits as well. As natural fibers, both cotton and linen are biodegradable and renewable materials. At the end of its useful life, cotton linen clothing will break down fully leaving no environmentally harmful waste behind.
Compared to synthetics derived from petrochemicals like polyester and nylon, cotton linen clothing has a much lower carbon footprint. Choosing organic cotton and linen takes the environmental benefits a step further by eliminating toxic pesticides and fertilizers.
Well-made cotton linen pieces are built to last, reducing waste from fast fashion. Repurposing worn cotton linen as cleaning rags gives the material a second life. Overall, cotton linen offers a sustainable choice for eco-conscious consumers who want quality clothing with less disposability.
Cotton Linen Requires Low Maintenance and Is Easy to Care for
For all their merits, cotton linen fabrics do not require complicated special care and cleaning. Cotton linen clothing is machine washable in most cases, saving time and hassle. Wash cotton linen garments in cool to warm water on a gentle cycle. Tumble dry on low or hang dry for best results. A medium heat iron is safe to use as needed.
Cotton linen fabrics are affordable as well - you don't have to sacrifice your budget for their benefits. Cost varies based on the thickness and exact blend. But broadly speaking, cotton linen offers quality for the price across the spectrum.
For crease resistance, skip the fabric softener when laundering cotton linen. Briefly wash garments inside out as well. With just these basic care tips, your cotton linen wear will stay looking fabulous trip after trip through the washer. The minimal care reflects the unfussy, practical nature of these fabrics.
View More
COOFANDY Cotton Linen Outfits | Men's Casual Linen Shirts, Linen Pants
Read More
---