Coofandy Prime Day Big Sale: Get 20% Off on 2 Items! Exclusively for Subscribers!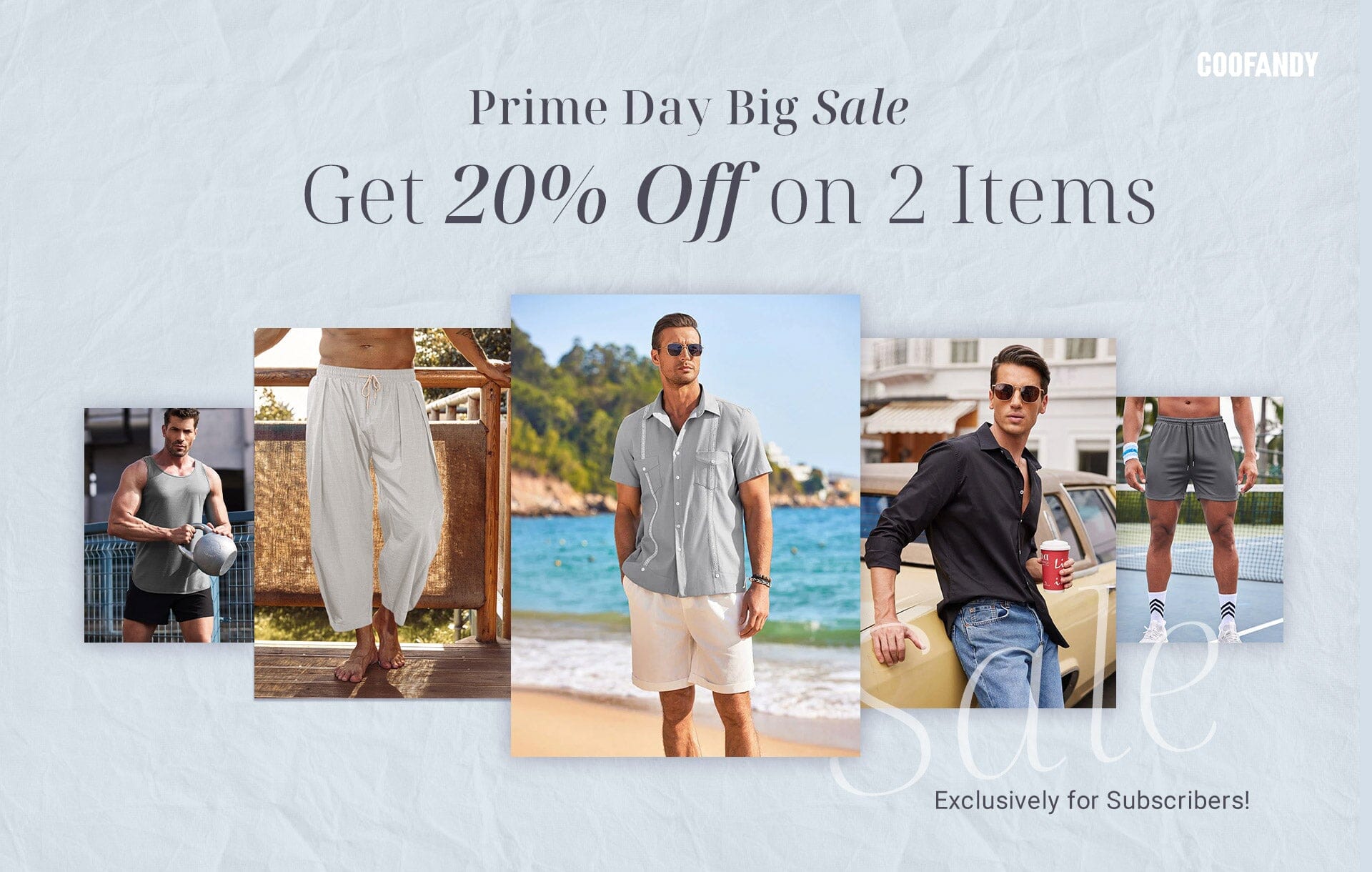 Welcome to the Coofandy Prime Day Big Sale! Save up to 20% on our high quality men's cotton linen clothing. During the big sale days, you can get 2 ITEMS GET 20% OFF, exclusively for our Coofandy's subscribers. Use code PD20 at checkout to redeem. The big sale offer will be available from July 1 to July 16!
Coofandy is a men's clothing brand focused on simplicity, durability and style. Our clothes are made from the cotton and linen, and other advanced synthetics. We specialize in essential wardrobe pieces like shirts, t-shirts, shorts and chinos that are perfect for laid-back summer living. So discover classic, timeless pieces that you'll love to wear again and again, all at great sale prices exclusively for you during this Prime Day sale. Shop Coofandy!
How to Participate in the Coofandy Prime Day Big Sale?
Are you excited about our Prime Day Sale already? No rush yet! Since this big sale offer is exclusively for our Coofandy's subscribers, it is better to know the procedures. Follow these simple steps to avail the exclusive 20% discount for Coofandy subscribers:
Sign up

as an email subscriber on the Coofandy website. Existing subscribers can simply login. Subscribing is free and you'll get early access to sales

plus personalized recommendations.
Browse through the extensive collection of our clothing with sales tag on the website. From classic shirts to chinos , you're sure to find your perfect wardrobe essentials.

Add any two items from the Prime Day Sale

Collection

to your cart. This can be two shirts, or a shirt and pair of shorts. As long as you have two qualifying items, you're eligible for the discount.
During checkout, enter the exclusive subscriber code PD20 to immediately receive 20% off your order total. The discount code is only valid for this Prime Day Sale, so don't miss out!
Do remember to place your order between July 1 to July 16! Happy shopping and enjoy the great deals exclusively for Coofandy subscribers this Prime Day.
Must-Have Picks for the Coofandy Prime Day Sale
The Prime Day Sale is only available once a year, so take advantage of the sales: stock up on essentials from Coofandy's collection and refresh your summer wardrobe with some of Coofandy's most versatile and stylish garments!
The Quick-drying Gym Workout Shorts - Crafted from lightweight and stretchy 80% polyester and 20% cotton that wicks away moisture, these training shorts keep you comfortable during high-intensity workouts.
Quick-drying Gym Workout Shorts (US Only)
The Breathable Yoga Pants - Perfect for yoga, lounging, or everyday wear, these linen-viscose pants keep you cool and comfortable. The wide-leg cropped style and roomy fit allow full range of motion for yoga poses while the breathable blend of viscose and linen keeps you from overheating. Complete your activewear collection and save 20% during the Coofandy Prime Day Sale.
Casual Linen 3/4 Beach Yoga Shorts (US Only)
The Linen Shirts- An essential for every warm-weather wardrobe. Coofandy's linen shirt is crafted from lightweight cotton and linen with just the right amount of stretch. Wear it open over a tee or completely buttoned up.
Casual Plaid Collar Linen Style Shirt (US Only)
Testimonials from Satisfied Coofandy Customers
Prime Day is our way of showing appreciation to our valued customers who have put their trust in Coofandy to provide high quality and stylish cotton-linen clothing at affordable prices. Once a year we offer exclusive discounts to our loyal subscribers during this big sale event.
Along with great deals, we also like to share testimonials from happy Coofandy customers. Their words of praise inspire us to continue crafting garments that meet the high standards for comfort, functionality and lasting style.
"Coofandy's linen shirts are the most comfortable shirts I own. The fabric is breathable, wrinkle resistant and has a lived-in softness from the first wear. The fit and styling are impeccable - I get more compliments when wearing my Coofandy shirts than any other brand." - Thomas S., Houston TX
"I bought shorts and a jacket from Coofandy last summer and they have held up excellently. The quality is top notch and the styles are classic without being stuffy. I know their clothes will last me for years." - Michael B., Chicago IL
"As soon as the weather starts to warm up, the first thing I do is browse the new arrivals at Coofandy. Their cotton linen clothing has the perfect combination of ease and elegance for summer. I always get so many compliments when I'm wearing Coofandy - the styles are right on trend but timeless at the same time." - Jacques P., Montreal Canada
"Coofandy understands the value of simple, well-made essentials for a man's wardrobe. Their clothing combines function and beauty by utilizing the breathable properties of natural fibers and emphasizing tailored silhouettes. I am never disappointed by anything I purchase from Coofandy." - Jeremy N., Los Angeles CA
We couldn't have come this far without the loyal support of our customers and we aim to earn your trust everyday through quality products, excellent service and reasonable prices. As Coofandy grows, our focus remains providing the essential linen and cotton wardrobe pieces that you'll reach for season after season.
We hope these glowing reviews inspire you to discover the quality, comfort and style that Coofandy offers for yourself. Shop our Prime Day Big Sale from July 1 to July 16, and save 20% on two or more items exclusively for subscribers.
---