Affordable Sustainability: Introducing Eco Friendly Clothing by Coofandy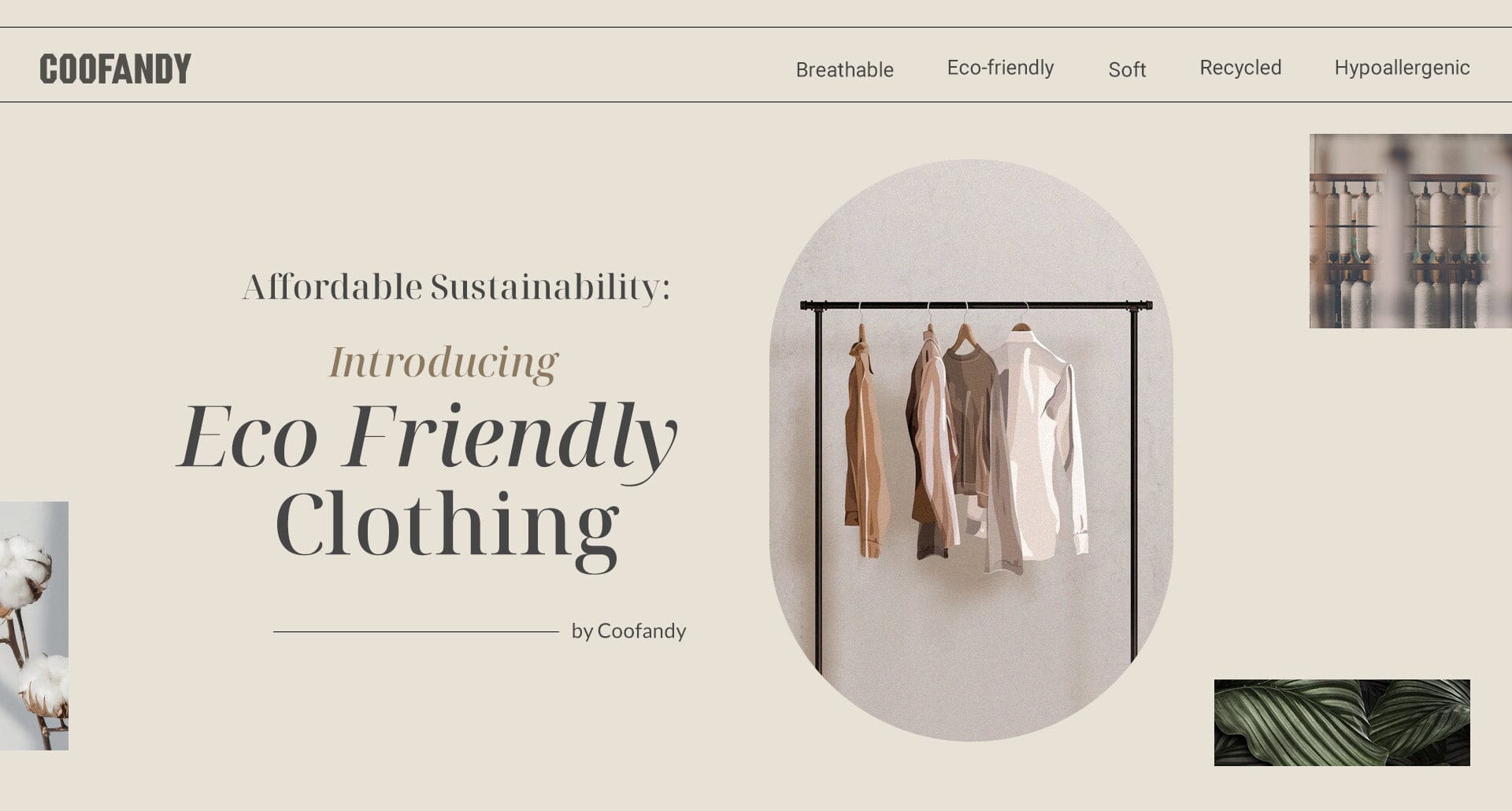 Navigation
The sustainability movement has brought about many meaningful changes for people and the planet. But one challenge remains: sustainable fashion still struggles with perceptions of being exclusive and expensive.
This "elite" perception of eco-friendly clothing risks leaving behind budget-conscious consumers who also care deeply about ethics and the environment. Making sustainable fashion accessible to all requires revolutionizing both production and marketing, eliminating any unnecessary premium that creates barriers to entry.
At Coofandy, we believe sustainable style should be for everyone - not just those who can afford to pay more. That's why we have created our affordable sustainable clothing line. By utilizing eco-efficient production methods, sustainably sourced recycled materials and strategic pricing, we aim to prove that ethical fashion doesn't have to break the bank.
Understand Why Sustainable Fashion Is often More Expensive
Higher material costs
Organic cotton, recycled fibers, and other sustainable materials often cost more to produce than conventional synthetic fabrics. This is partially due to lower crop yields for organic cotton and higher processing costs for recycled fibers. These higher material costs are passed on to consumers.
More complex production processes
Producing eco-friendly clothing often requires more complex and resource-intensive manufacturing techniques. For example, recycling polyester fibers from plastic bottles is a multi-step process.
Living Wages for Workers
Many sustainable fashion brands commit to paying their workers living wages that sufficiently cover basic needs. This can mean wages 2-3 times higher than the minimum wage in some producing countries.
Safer Working Conditions
Ensuring safe and healthy working conditions for garment workers also increases costs. Investments in things like air filtration, adequate bathroom facilities, first aid, and personal protective equipment all help create more humane factories but also drive up prices.
Smaller economies of scale
Most sustainable fashion brands are smaller companies with less purchasing power and smaller production runs. This means they cannot achieve the same economies of scale as larger, mass-market brands. This lack of scale also contributes to higher unit costs for sustainable clothing.
Higher certification and compliance costs
Many sustainable fashion brands undergo third-party certifications, such as the FSC and the OEKO-TEX® STANDARD 100 Certification to verify their ethical and eco-friendly claims. These certification processes can be expensive.
The Coofandy Difference: Affordable Sustainability
At Coofandy, we are on a mission to prove that sustainable fashion does not have to mean sacrificing style or spending more. Our FSC-certified eco-friendly clothing line shows that ethical style can be attainable for all:
High-Quality yet Affordable Materials
Our clothing is made from materials certified by the Forest Stewardship Council (FSC). The FSC ensures eco-efficient production and secure supply chains to keep costs low. Yet the sustainable materials still deliver long-lasting durability and comfortable wear.
Strategic Pricing Initiatives
We strive for transparency throughout our supply chain, cutting out unnecessary costs where possible. We also aim for economies of scale through product consolidation, standardization and larger order volumes. These measures allow us to offer fair market prices that do not exceed what customers expect to pay.
Customer Reviews
"I was pleasantly surprised by the quality and value of these clothes. The fabric and stitching feel expensive yet the price was very reasonable. I'll definitely be purchasing more from Coofandy!"
"I'm happy to have found an ethical clothing brand that is actually affordable! The basics I got have a stylish yet timeless design and the use of organic materials is a bonus."
Casual Eco-friendly Sport Sets
Coofandy's Commitment to Environmental Stewardship and Sustainable Business Practices
We source materials from responsible suppliers who share our values. We manufacture our products in an eco-efficient manner, using processes that conserve resources and reduce waste. Our facilities are designed for optimal energy efficiency and environmental performance.
We implement sustainable business practices like recommerce programs, Environmentally Preferable Purchasing policies and a zero-waste mindset. We support a circular economy where materials are reused and recycled.
In summary, at Coofandy we believe sustainable fashion should not be a privilege reserved only for the wealthy. By utilizing eco-friendly production, ensuring transparent supply chains and employing strategic pricing, we aim to prove that ethical style can be attainable and affordable for conscious consumers of all incomes. Everyone deserves sustainable fashion - and we intend to make it accessible through ethically-made basics and wardrobe essentials priced for real life.
Read More
---