Cotton Linen Shirts and More: What to Wear to a Pool Party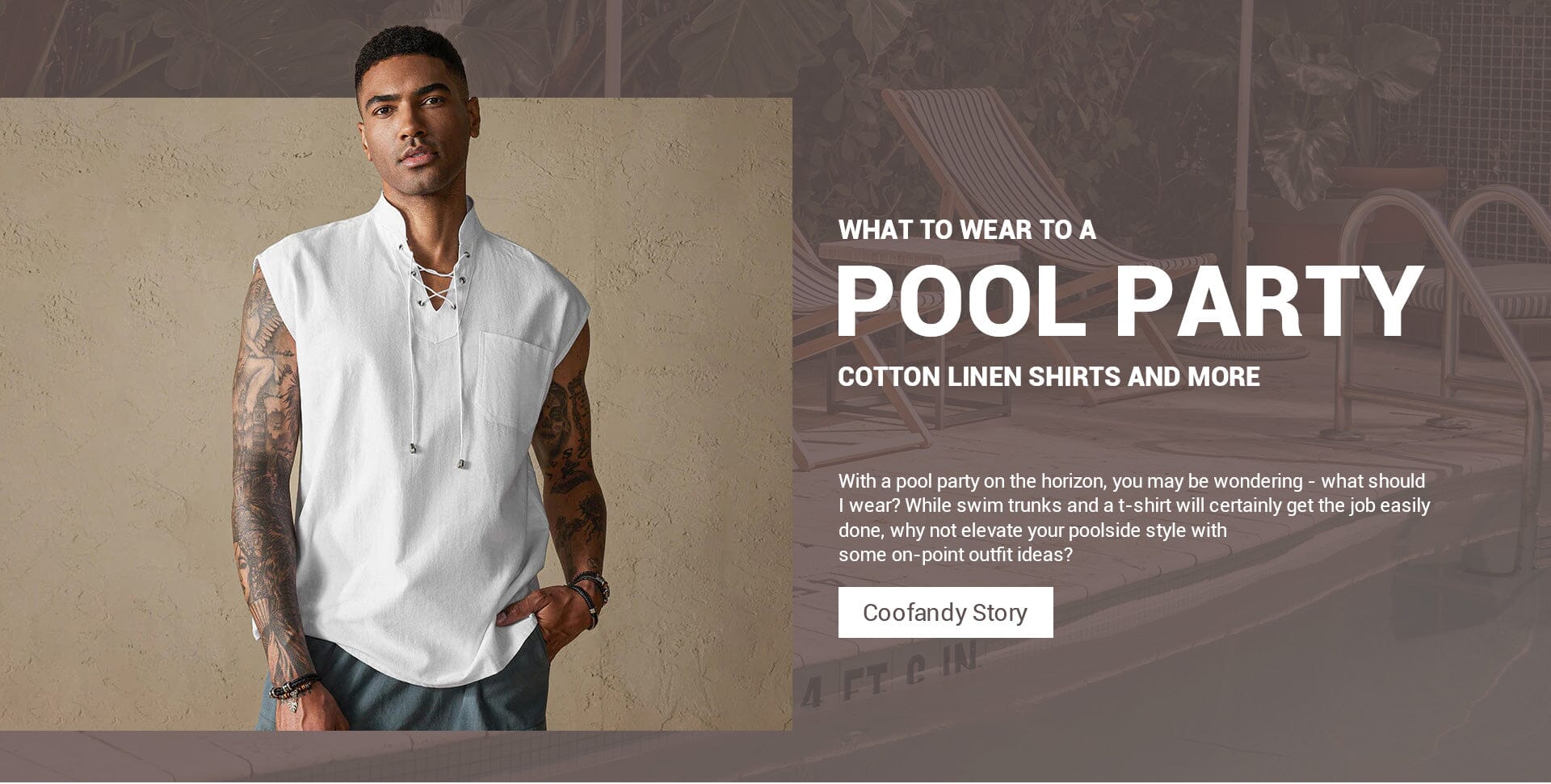 Navigation
With a pool party on the horizon, you may be wondering - what should I wear? While swim trunks and a t-shirt will certainly get the job easily done, why not elevate your poolside style with some on-point outfit ideas? From cotton linen button-downs and drawstring pants to pull-on shorts and boat shoes, there are plenty of options that will have you looking fresh and feeling comfortable for a day full of fun in the sun.
Cotton Linen Style Henley Shirt (US Only)
Cotton Linen Casual Drawstring Shorts
So dive right in and get inspired! We'll cover fitting yet flexible swim shorts, versatile drawstring pants, stylish yet breathable shirts, the best pool slides and sandals, essential accessories and more. Following our tips will have you pool party perfect and ready to make a splash at your next fun-in-the-sun gathering. So what are you waiting for? The water's waiting!
Preparation: Consider the Pool Party Theme and Setting
First things first, before you go to any party, the No.1 rule is to confirm the party theme. While the basics always apply, considering the theme and setting of the pool party can help refine your outfit choices. From formal backyard bashes to tropical luau themes, different vibes call for slightly different styles. If you don't have any ideas about how to prepare yourself for different party themes, no worries, we have summarized some pool party themes and the corresponding outfit ideas. Please check the examples below:
Backyard Barbecue
For a lowkey gathering in someone's backyard, stick with the basics - swim shorts, a branded tee or cotton linen shirt, and sandals. Throw on a baseball cap for a more casual effect.
Cotton Linen Casual Solid Sleeveless Shirt
Tropical Luau
Channel island vibes with torn and faded board shorts, a Hawaiian floral beach shirt left open, and rubber flip flops. Finish the look with a woven leatherbracelet.
Hawaiian Floral Beach Shirts (US Only)
Hotel Rooftop Party
Step up your style for an upscale poolside gathering. Navy chinos or cotton linen pants work well paired with a loose cotton linen button-down shirt and boat shoes. Skip the baseball cap for a woven sun hat.
Cotton Linen Style Casual Pants
Cotton Linen Solid Color Double Pockets Shirt
Poolside Cocktails
Add a touch of flair for an evening pool party with drinks and snacks. Opt for patterned swim trunks and a textured guayabera shirt. Slide into canvas sneakers and top it off with a wide-brim sun hat.
Embroidered Guayabera Linen Shirt (US Only)
As you can see, considering the theme, time of day and details of the event can inspire more tailored - yet still comfortable - outfit choices. But whether the vibe is laidback barbecue or hotel rooftop party, a few basics always apply: simplicity, breathability, versatility and style that enhances rather than distracts from the experience. Follow these guidelines and you'll be perfectly dressed - no matter what the theme!
Guidelines on What to Wear for Pool Party
Basic Rule: Comfort and Functionality
Comfortable clothing is key for a relaxing pool party. Look for lightweight and quick-drying fabrics that will stay comfortable even when wet. Cotton, linen and synthetic blends are suitable options. 100% cotton clothes will absorb water and take longer to dry, so a cotton-linen blend is ideal. They tend to retain their shape better when stretched while wet.
Cotton Linen Coconut Tree Printed Long Sleeve Shirt
Nylon and polyester swim trunks, tankinis and swimsuits will dry the fastest. They are often used for competitive swimwear due to their quick-drying properties. Pair your swimsuit with caftans, kimonos or pareos made from synthetic fabrics. Plastic accessories like flip-flops and sunglasses complement functional pool party attire. Don't forget a large beach towel - cotton towels take longer to dry, so microfiber options are best.
General Styling Tips
For swimwear:
Get a pair of trunks in a trim fitting style, not too baggy. Consider boxer-brief style for a more tailored look.
Solid colors like navy, grey and black are always stylish and versatile.
Select longer inseams around 14-15 inches for a more fashionable cut.
Lightweight Kimono Robe (US Only)
For a top:
Wear an open, short sleeve cotton linen shirt in a light color. Rolled up sleeves look stylish.
Opt for a textured pattern like gingham or stripes instead of plain colors.
Leave a few buttons undone at the collar for a casual yet put-together vibe.
Classic Casual Cotton and Linen Stand Collar Shirt
For footwear:
Slides or flip flops in black, navy or brown leather offer a slightly more stylish alternative to cheap plastic thongs.
Checkered Vans slip-ons can give an outfit a preppy, on-trend look.
Accessories:
Sunglasses are a must. Wayfarer or aviator styles never go out of style.
Add a hat. Panama hats or straw fedoras infuse classic retro appeal.
A simple pendant necklace or bracelet in silver or leather can elevate the look.
Tips:
Apply some styling product to hair for a messy, textured look.
Groom facial hair if you have a beard or goatee.
Carry your belongings in a leather crossbody bag.
Scent yourself with a subtle masculine-leaning cologne or aftershave.
The key is to find well-fitting swimwear, opt for outfits in more premium fabrics, and incorporate classic-yet-on-trend accessories. Minimal stylingfinishes off the "I tried but didn't try too hard" effortlessly cool look perfect for a pool party.
Read More
---