How to Assemble the Key Wardrobe Essentials for Men in 2024?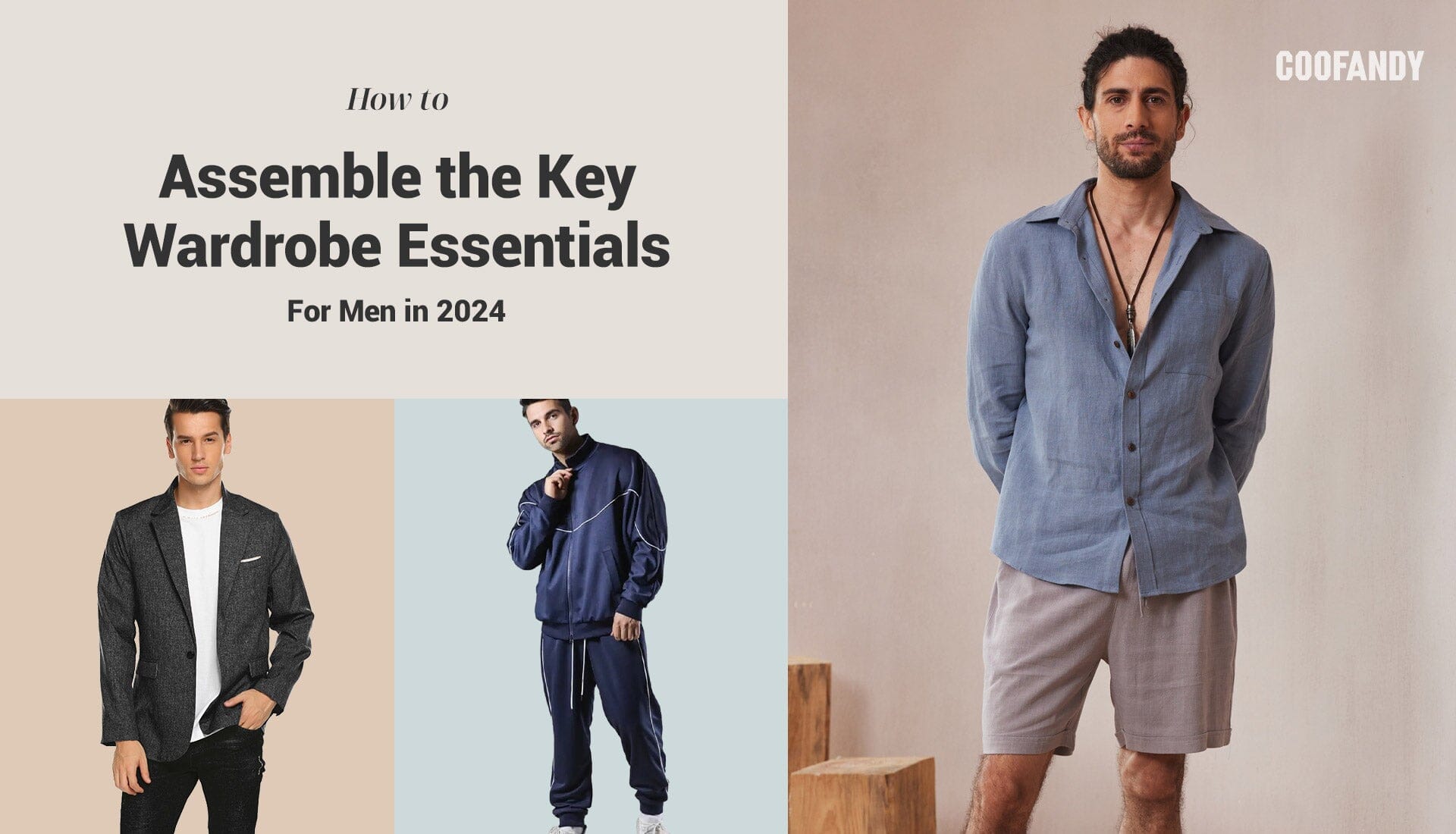 Navigation
Having a versatile, well-edited wardrobe can make getting dressed an effortless task and ensure you always look pulled together. The key is identifying classic essential clothing items that seamlessly mix and match. Curating a "capsule wardrobe" of staple pieces that transition smoothly from season to season and occasion to occasion helps streamline your closet while maximizing combinations.
As new styles and trends emerge, certain essentials stand the test of time when it comes to flattering fit, quality fabrication and versatility. Follow this guide on assembling the key wardrobe essentials perfect for men's fashion in 2024. Choose items in colors and fabrics aligned with upcoming trends that will carry you stylishly through the year ahead.
The Tailored Suit
A properly tailored suit in a lightweight wool or performance blend remains a foundational wardrobe essential no matter the year. The suit is a classic garment that instantly makes any man look refined and put together for the office, events or anytime a polished elevated look is needed. When shopping for a suit, pay attention to:
Fabric: Light-to-medium weight wool suits work year-round, while a performance blend with stretch offers incredible comfort and movement. Look for quality natural fabrics that hold shape well. For 2024, textures like hopsack, basketweave and linen blends will add interest.
Cut: A tailored cut flatters most body types. Ensure the shoulders align with your frame and aren't too padded. The jacket length should cover your rear. Pants should drape straight without pulling at hips or sagging. A modern slim cut remains on-trend.
Color: Navy, grey, charcoal and tan areneutrals that make suits highly versatile. Bolder blues like cobalt are forecasted to be popular suit shades in 2024. Accent colors work for suits in more creative fields.
Fit: Get properly measured so the suit fits your proportions rather than going for standard sizes. The jacket should button comfortably and move with your body. Pants should be hemmed for a slight break over your shoe.
Aim to have at least one go-to navy and charcoal suit in wool or blend material that fits impeccably. Then add statement suits in modern shades like slate blue as your wardrobe expands. Proper tailoring and fit paired with timeless colors makes suits wearable for decades to come.
The Dress Shirt
A dress shirt free of wrinkles is a year-round essential that elevates everything from business suits to casual weekend wear. When shopping for dress shirts, seek out:
Fabrics: 100% cotton poplin weaves make dress shirts breathable. Blends with spandex or performance fibers allow stretch for optimum comfort. High-end Sea Island cotton, twills and textured oxfords are on trend for 2024.
Collar and Cuffs: Slim button-down collars work on most face shapes. Barrel cuffs offer a refined finish, while rounded French cuffs elevate with cufflinks. Contrasting white collars/cuffs lend interest to solid shirts.
Cut: Look for a tailored cut through the torso but not too fitted in the shoulders and arms for mobility. Shirt lengths should cover your pant fly with room to tuck.
Colors/Patterns: White always makes a crisp statement. Light blue suits all complexions. Bold print or color dress shirts pair perfectly with neutral suits. Plaids, checks, subtle pinstripes and textured motifs make dress shirts more interesting.
Own multiple dress shirts in solids like white, light blue and grey so you always have one ready. Add some bold colors and patterns to change up looks while ensuring proper fit makes you look sharp.
Quality Casual Button-Downs
While dress shirts tend towards polished looks, casual button-downs offer a relaxed vibe perfect for 2024's comfort-focused trends. Smart casual shirt style remains professional yet approachable by:
Material: Soft brushed cotton, flannel, textured cotton blends, cotton and linen, lightweight oxfords and linen deliver comfort with character.
Color/Pattern: White or light blue classic oxford shirts transition from work to weekend seamlessly. Plaids, stripes and micro-patterns in grey, tan and muted shades make versatile style statements.
Cut: A semi-fitted cut looks flattering, not boxy. Finished hems and chest pockets add interest and polish. Rollable button sleeves lend a casual touch.
Pair these collared shirts with trousers or dark rinse jeans to sharpen casual Friday workwear. Rolled sleeves, untucked silhouette and top buttons left open provide a relaxed yet put-together aesthetic perfect for 2024.
The Perfect Jeans
Few wardrobe essentials rival dark rinse straight or slim cut jeans in versatility. A great pair of jeans looks just as at home with a T-shirt and sneakers as it does dressed up with a blazer and dress shoes. For jeans you can wear year after year, pay attention to:
Wash: A medium to dark indigo wash looks sharp and dignified for everyday wear. Black denim offers styling versatility from edgy to sophisticated.
Rise: Look for a medium rise hitting near your natural waistline for the most flattering silhouette. High-rises are also on-trend.
Leg: Straight leg or slim leg jeans provide a polished look. Opt for slight tapers through the leg rather than exaggerated skinny jeans.
Fit: Seek a lean silhouette without hugging your legs.Jeans should never gape at the waist or sag. The perfect length falls atop your shoe.
Distressing: For a modern look, seek minimal light distressing versus heavily ripped or faded washes.
Jeans might seem casual, but the right pair feels elevating and confidence boosting. Aim for dark washes in fitted yet comfortable cuts you can dress both up or down seamlessly.
Don't Forget Exercise Essentials
A man's wardrobe isn't complete in 2024 without versatile activewear for hitting the gym or trails. Look for moisture-wicking performance fabrics that allow range of motion in t-shirts, shorts and pants. Sweat-wicking, lightweight hoodies and half-zips make great layering options. Choose dark colors in workout gear so it coordinates. Well-fitting athletic sneakers in leather or knit fabric are built for training while offering all-day comfort for athleisure wear. Having workout apparel you feel confident in makes maintaining fitness routines effortless. Include exercise apparel essentials like performance tees, supportive footwear and stretch workout pants perfect for breaking a sweat or wearing about town.
Conclusion
Curating your wardrobe around versatile essentials you can mix, match and update with trendy seasonal statement pieces helps streamline getting dressed. Invest in quality materials and impeccable fit for the foundation of go-to suits, shirts and jeans that stand the test of time. Add in unique jackets, knitwear and accessories that speak to your personal style. A tailored, edited wardrobe of classics you feel amazing in makes getting ready an effortless part of your morning routine for years to come. Use this guide to build your 2024 wardrobe essentials arsenal!
Read More
---