A Gentleman's Guide to Rocking Linen Shorts: Style Tips and Outfit Ideas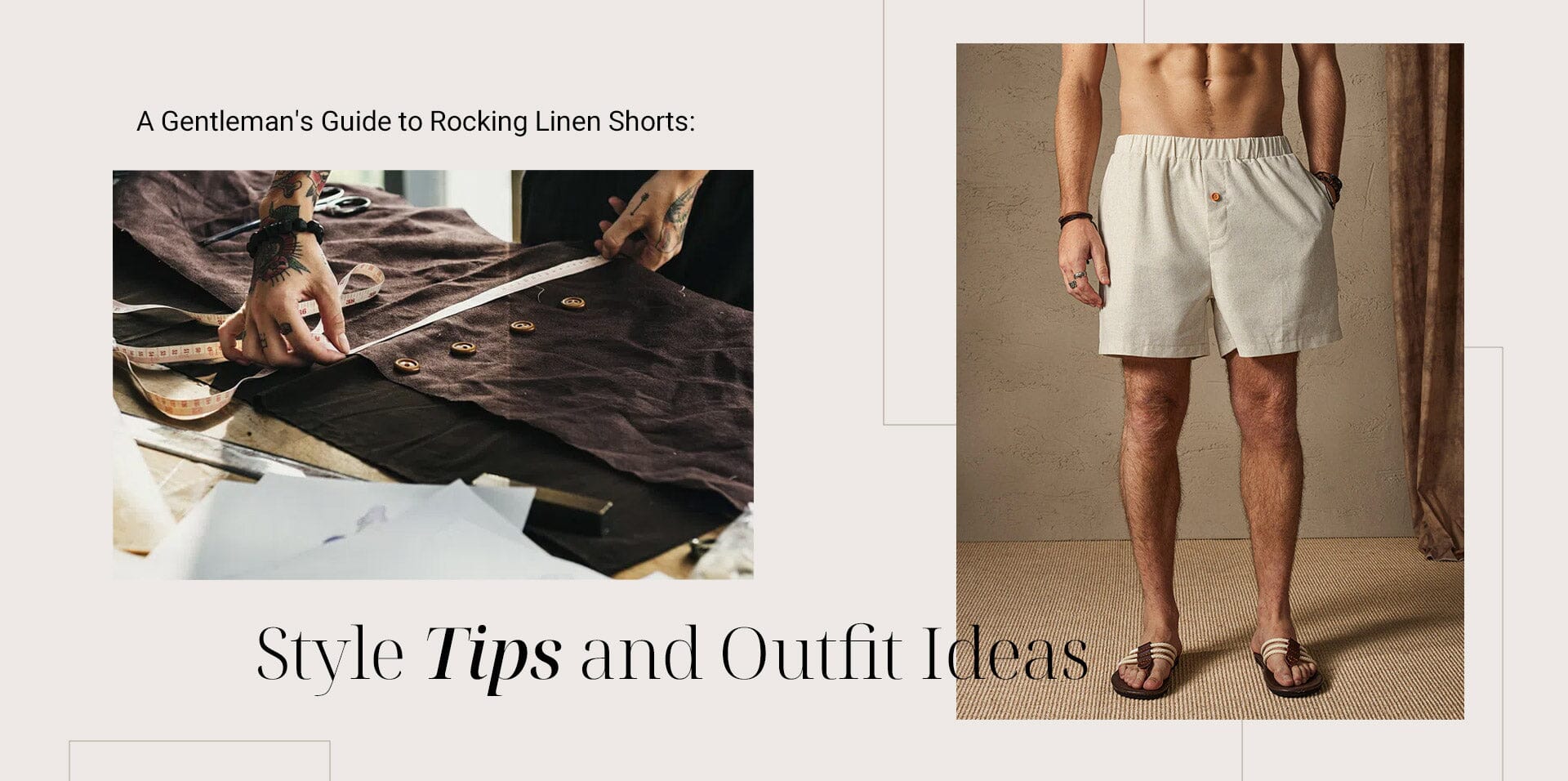 Are you ready to take your summer style to the next level with the masculine yet comfortable look of linen shorts? While linen shorts may seem laidback and informal, wearing them well requires an understanding of fit, styling, and the right choices of lengths and cuts. But with a few simple guidelines and outfit inspiration, you'll be ready to step out in style this summer.
So grab your favorite pair of linen shorts and master the art of sporting one of men's casual - yet stylish - wardrobe essentials.
Finding the Right Fit for Your Linen Shorts
The essential part of styling your linen shorts is the right fit. The impression the linen fabric gives is easygoing, comfortable, and elegant, so choosing linen shorts that fit your
body well is very important to highlight that feeling.
When it comes to how to choose the right size and fit for linen shorts, we have summarized some tips for your reference:
Look for slightly loose or roomy fits that allow airflow but don't billow or sag. Linen is meant to have some breathing space.
The waist should sit at your true waist, not below your hips. Linen shorts are not the right choice if you want to play young and cool and keep your waist low! Get the right rise - mid or high - for your proportions.
Linen shorts will likely shrink slightly with washing,but it doesn't have any impact on your size. You can also retreat the waist for a better fit if you prefer loose-fitting.
Fit is essential! Once you get this one right, you are on the right track to level up your style!
Styling Balanced Linen Short Looks
When wearing linen shorts, focus on one key aim: proportional balance. To achieve this, you can follow the suggestions below:
Pair with fitted tops: Choose structured shirts in cotton or linen. For Bermuda shorts, opt for slim-cut polos tucked neatly in or fitted linen button-downs with the sleeves rolled. With drawstring or cropped shorts, pair a slim-fitting tee in a plain color, rolled just enough to showcase your forearms. The tighter fit above the waist will balance the voluminous silhouette of the shorts.
Wear slim-cut bottoms: Pair your linen shorts with slim or tapered jeans and chinos that hit just above the ankle for a harmonious look. Cuffed once, the narrower leg opening will balance the billowy volume of the shorts.
Opt for sleek footwear: Choose shoes with a trim profile like boat shoes, driving loafers, or slim sneaker styles. Bulky boots or wide sneakers will overwhelm the loose lines of linen shorts, disrupting the balance you seek.
Keep accessories minimal: Resist layering necklaces or stacking bangles. Limit yourself to just a pair of simple sunglasses, a flat cap, and perhaps a thin pendant or leather bangle - enough to complement the outfit without distracting from it.
Choose solid colors: Stick with plain, solid-colored tops and shoes to let the textured crinkles and folds of your linen shorts take center stage. Complex prints or large motifs will compete for visual prominence, undermining the balanced aesthetic you're after.
When styled this way, the breathable, effortless properties of linen are showcased to their fullest, allowing you to radiate a sense of casual sophistication - all through the art of proportionate pairing.
Maximizing Color and Pattern With Linen Shorts
The design of linen shorts might be limited, but you can create more outfit possibilities by pairing them with different patterns and colors. Color and pattern have the magic to instantly update your linen shorts when used correctly.
For versatile styles: Opt for neutrals like beige, tan, cream, navy, and grey. Their subtle tones allow linen's natural folds to shine.
Cotton Linen One Button Casual Shorts
For a casual look: Earth tones such as olive green, bronze, and khaki work well, evoking comfort. Pair with simple tees or linen tops.
Classic Elastic Waist Linen Shorts (US Only)
For a dressed-up feel: Darker hues like brown, charcoal, and ink blue add polish. Style with tucked button-downs and boat shoes.
Cotton Linen Style Multi-pocket Shorts
For a preppy twist: Pastels including light blue, peach, and mint impart a youthful, summery vibe. Pair with brighter-colored polos.
Cotton Linen Beach Drawstring Casual Shorts
For subtle patterns: Try thin striped waistbands or allover stripes in muted tones for visual interest that does not overwhelm. Opt for blue/grey or navy/tan.
Stripe Drawstring Cotton Linen Beach Shorts
For subtle prints: Choose small geometric or floral motifs printed on plain grounds to maintain linen's textured appeal without competing.
Casual Printed Linen Holiday Shorts (US Only)
For pattern-mixing: Experiment by pairing a striped top with printed shorts or vice versa. Ensure all patterns are in similar color families.
In summary, simple strategies like opting for complementary shades, focusing on versatility, experimenting sparingly, and relying on classic neutrals will maximize the wearability and impact of your linen short collection for years to come.
Read More
---