How to Measure Your Size for Online Clothes Purchasing?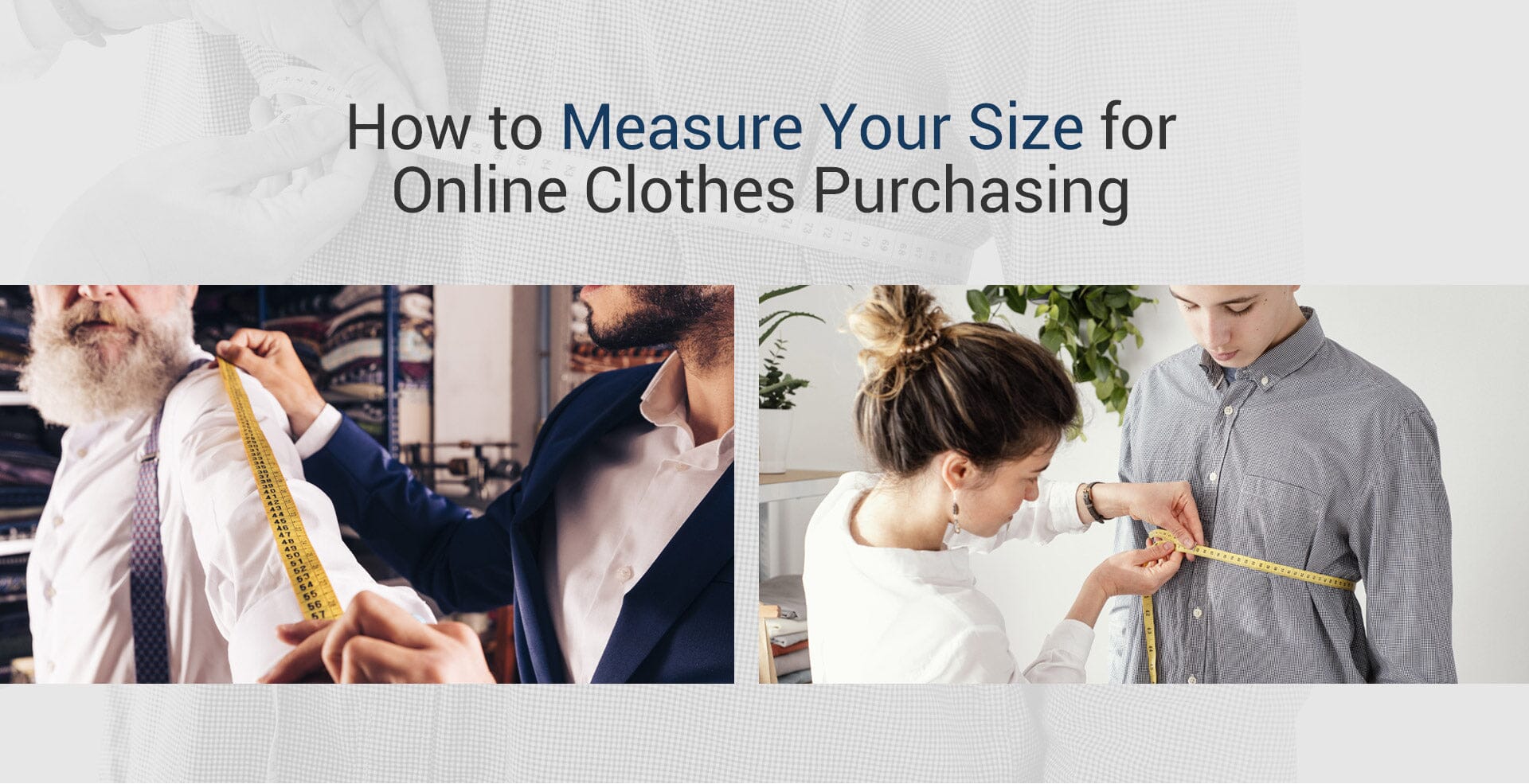 Navigation
When you are shopping clothes in the shops offline, you can simply try it on to check whether it fits. However, when you purchase clothes in these online shops, the number on the tag means nothing without knowing your true measurements. Finding clothes online that actually fit your shape starts with accurately measuring your unique proportions. But many of us guess at clothing sizes or rely on outdated metrics leading to poorly fitting fashion frustration.
In this post, we'll walk through a simple at-home process for measuring your body properly. With a soft tape, a helper, and our guide to recording each dimension precisely, you'll unlock your complete clothing size numbers. Read on to learn how to capture your true size and dimensions for a tailored wardrobe that hugs you in all the right places.
Start by Suiting Up for An Accurate Measurement
To get accurate body measurements, remove bulky outer layers and only wear fitted underwear. Choose underwear that is form-fitting but not overly tight or compressive. Loose-fitting or stretched out underwear could impact the accuracy of your measurements.
Remain relaxed and naturally posed as you measure yourself. The goal is to get an honest assessment of your body shape and size proportions. Focus on how your frame and musculature are proportioned, rather than any particular muscles being flexed.
Arm yourself with a flexible cloth or plastic measuring tape, not rigid metal that can bend awkwardly. Work with an assistant to document your objective size rather than reaching around yourself. And stand in a neutral position without flexing, inhaling deeply, or arching your back. Measurements should represent your relaxed posture.
Take each measurement snugly without pinching skin and round to the nearest half inch. Double check a couple times to average for the most precise value. With the right simple preparation, you'll be ready to capture your body size.
Chest, Shoulder, Sleeves - Key Upper Body Measurements
When measuring your upper half, be sure to capture:
Chest - Wrap the tape under your arms around the fullest part of your chest.
Shoulders - Measure from edge to edge of each shoulder across your upper back.
Sleeves- To measure your sleeve length, place the measuring tape from the center of your neck along the inside seam of your arm straight down to your wrist bone with your arm relaxed by your side.
Tracking these four torso dimensions will give you an accurate starting point for selecting tops, including shirts, Polos, sweaters, jackets, jackets and more.
Hips, Outside leg, Waist - Essential Lower Body Sizing
Turning to your lower half, these key measurements are needed:
Hips - Measure around the widest part of your hips and rear.
Outside leg - To measure your outside leg length, have someone measure from your crotch down the outside of your leg to the floor while standing up straight with closed feet.
Waist- To measure your waist, find the narrowest part of your abdomen, usually around the belly button, wrap a measuring tape securely around that part without restricting breathing, and record the measurement where the tape meets without slack.
Understanding your own measurements enables you to choose the correctly sized clothing.
Using Your Measurements for online shopping
Armed with all of your unique size metrics, you can now easily find clothes that fit your frame. Use your measurements to find your optimal size on most clothing brands' sizing charts for each garment type. Here are some tips for using your measurements when shopping for clothes online:
Check size charts - Most online clothing retailers provide detailed size charts that list the actual garment measurements (length, bust, waist, etc) for each size of that item. Compare these measurements against your own to determine what size should fit best. If you are ordering from Coofandy's official website, you can always refer to our size chart below. This size chart provides size recommendation based on your height and weight. When you get interested in specific products on Coofandy's webpage, the coofandy product detail page provides the measurement chart for each clothing item. You can match your own measurements and select the right size accordingly. If you are unsure of how to choose or don't know your exact measurements, you can refer to our size recommendation table based on your height and weight information. The measurement chart and size recommendation table are provided to help you choose the most fitting size.
Know your measurements - Keep a note of your updated body measurements handy when shopping online. This makes it easy to reference your dimensions against the size chart for any item.
Scope out reviews - Read reviews of the product to see if other customers mention it running large, small, or true to size. This can provide additional guidance.
Try the first item - When it isthe first time you purchase a particular brand, check on the webpage whether it has return or exchange policy. For example, Coofandy offers free return and this could work as a gurantee for you to order the one you like without worries.
Use fit tools - Enter your personal measurements into virtual fit tools and sizing calculators provided by some retailers. These can recommend precise sizes across all products.
Adjust for fabric - Consider that stretchy, loose fabrics with give may accommodate slightly larger sizes, while structured garments require more precision.
Opt for one size up - Most people nowdays enjoy a looser fit. If this is the case for you, you can choose one size up.
A Handy Online Size Chart for Finding the Perfect Fit in Men's Tops and Bottoms
Based on the inquies from our Coofandy's customers, we have summarized this comprehensive yet easy-to-use size chart as a handy reference for men shopping for tops and bottoms online. It accounts for how different fabric stretches and cuts affect size and fit. The chart focuses specifically on finding your perfect fit based on your personal net chest and hip measurements. This takes the guesswork out of choosing sizes virtually when you cannot try items on. Simply measure yourself, cross-reference your dimensions with the chart, and select the size that corresponds to your desired fit - be it slim, regular, loose or oversized. From casual t-shirts to tailored suits, this handy guide makes online men's apparel shopping easy, convenient and foolproof.
Types

Key Points

Clothing sizes (the net bust and hip measurements here refer to the customer's own measurements)

Fit

Micro-stretch fabric tops (form-fitting styles)

Chest measurement

Net chest+6-8cm

Fitted

Net chest+9-14cm

Slim fit

Net chest+15-18cm

Regular fit

Net chest+18cm+

Oversize

High-stretch fabric tops (form-fitting styles)

Chest

Net chest -6-+2cm

Fitted

Net chest+3-6cm

Slim fit

Net chest+7-12cm

Regular fit

Outwears

Chest

Net chest+8-12cm

Fitted

Net chest+13-16cm

Slim fit

Net chest+17-20cm

Regular fit

Net chest+20cm+

Oversize

Micro-stretch fabric bottoms

Hips

Net hips+6-8cm

Fitted

Net hips+9-14cm

Slim fit

Net hips+15-18cm

Regular fit

Net hips+18cm+

Oversize

High-stretch fabric bottoms

Hips

Net hips -4-+2cm

Fitted

Net hips+3-6cm

Slim fit

Net hips+6-12cm

Regular fit
Following these tips will help you determine the optimal size ranges to start with when shopping online for clothes without trying them on.
Read More
---