Men's Tank Tops: How to Wear Men's Tank Tops for Different Occasions in Summer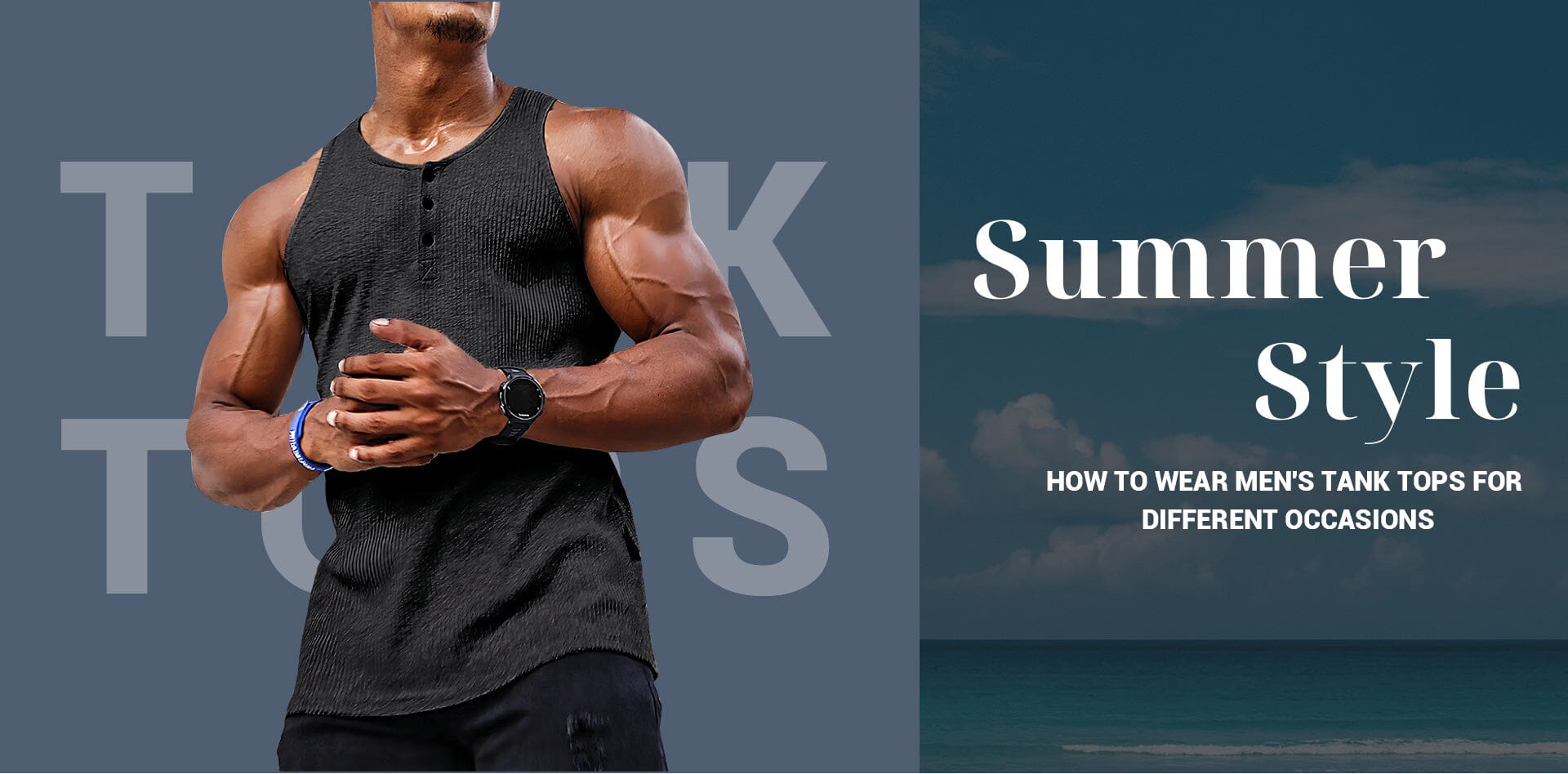 Navigation
While simple in design, the men's tank top is an essential piece for any man's summer wardrobe. In the hot summer months, nothing beats the breathability and comfort of a loose fitting tank that allows heat and moisture to quickly evaporate. Whether you're hitting the beach, working out at the gym or grabbing after work drinks, a men's tank top is an essential item for your summer wardrobe. Beyond just lounging around the house, tank tops can be styled in countless ways to suit different activities and events - from casual days to nights out.
In this guide, we'll explore how to wear tank tops for men for a variety of occasions this summer: from going for a run to quality time with friends. With the right styling tips and outfit combinations, you'll learn how to make the most of this simple piece, elevating it from basic workout wear to versatile day and nighttime wear.
Wear Tank Top for Causal Outings
When you run out of idea what to wear, tank top might be a good choice. To style up your tank top for causal outing, the key is to stick to casual loose fit tanks and pair with your jeans. Accessorize simply and stylishly to help elevate the basic tank look for daytime casual wear.
Classic Soft Word Printed Tank Top
If you are looking for a tank top for causal outings, we would like to recommend Coofandy's classice piece- classic soft word printed tank top.
This tank top is made of 95% polyester and 5% spandex, delivering a lightweight yet durable fabric. Polyester offers strength while the spandex adds just enough stretch for a comfortable fit that moves with you. This technical blend also wicks moisture away from the skin to the surface of the fabric where it can evaporate, keeping you feeling dry and fresh.
The casual loose fit of these tank tops ensures comfort and freedom of movement. A roomy silhouette provides plenty of airflow to keep you from overheating on warm days. The lack of structure means less restrictions for casual gatherings.
Tank Tops for Beach Days
The tank top is an excellent choice for a day at the beach. The key of styling your tank top for beach days is an easy, undone silhouette with accessories that are lightweight, breathable and beach-friendly. Your tan lines will thank you! Following these tips will help you style your tank top appropriately for a cocktail of comfort, style and functionality at the beach.
Coofandy has released the cozy solid cotton linen drawstring tank top, which is good chocie for your beach days.
Cozy Solid Cotton Linen Drawstring Tank Top
The adjustable drawstring waist allows you to customize the fit for maximum comfort. You can cinch it in to prevent the top from billowing too much in the wind. The blend of cotton and linen makes the fabric highly breathable and lightweight, perfect for your beach days.
Tank Tops for Gym
When it comes to choose a men's workout tank tops, go for a close-fitting performance tank made of technical fabrics like spandex or polyester that wick sweat away from your body. The loosen fit tank tops move around too much during workouts. Pair the tank with loose-fitting workout shorts made of quick-dry, breathable materials. Length should hit just above the knee - long gym shorts tend to bunch up.
Out of our collection, we would recommend Coofandy's Casual Solid Color Stretch Sports Tank Top
Casual Solid Color Stretch Sports Tank Top
This tank top is made of 85% polyester and 15% spandex. The spandex in the fabric provides stretch, allowing the tank top to hug your body and move with you. This is important for workouts involving movement and range of motion. Both polyester and spandex are moisture wicking fabrics, helping to pull sweat away from your skin and evaporate it faster. This keeps you feeling drier and more comfortable during an intense workout. Whenever you finish your gym session, you can easily wash the tank top after your workout to remove sweat and odors, helping it last longer.
Whether you're working up a sweat at the gym, running errands or meeting friends, the humble tank top can be styled in countless ways to suit any warm weather activity. By following the simple outfit tips covered in this guide, you now have the knowledge to maximize the versatility of this basic summer staple.
So go ahead - embrace the tank top as an essential piece for your casual wardrobe this season. From the beach to brunch and everywhere in between, pair your tanks with comfortable yet stylish bottoms, footwear and simple accessories. Experiment with fit, fabric, colour and styling whether tucked in or untucked to create multiple looks from one piece.
More options: COOFANDY Men's Tank Top | Gym Sleeveless T-Shirt
Read More
---