How to Wear Linen in Winter 2023: A Guide for Men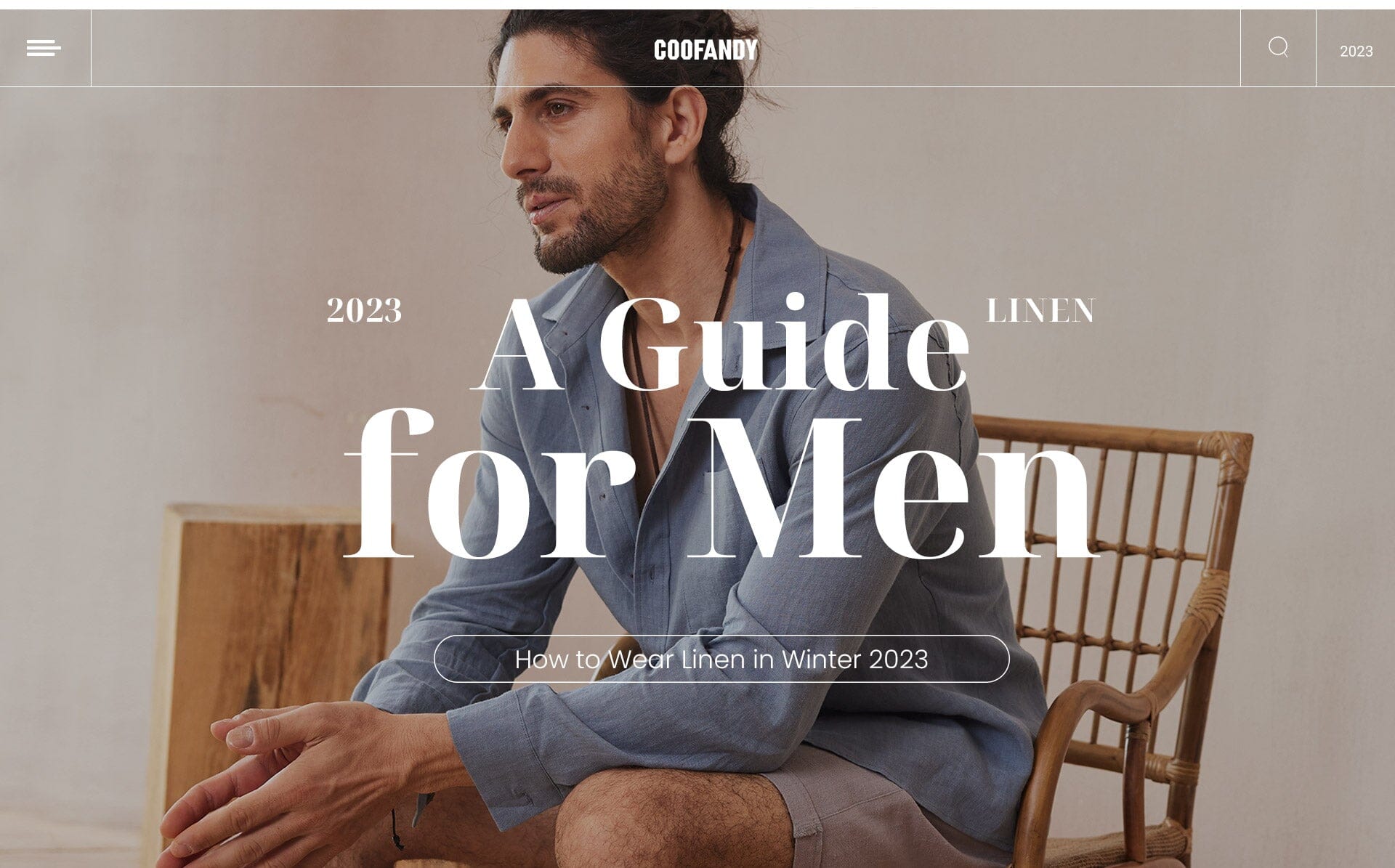 Navigation
When crisp winds blow and temperatures drop, most guys box up their summertime linens for warmer wardrobe staples. Makes sense, right? After all, lightweight fabrics like linen seem better suited to hot beach days than snowy winter ones.
But what if we told you linen can totally work in cold weather too? With the right styling techniques, you can absolutely incorporate linen into your winter fashion lineup. Curious how? Just follow these tips.
Choose Heavyweight Linens
Not all linens are created equal. Super thin, gauzy linen fabrics probably won't cut it in the depths of winter. Instead, opt for heavyweight linens and linen blends in pants and shirts. Sturdy linens woven from thick natural fibers will insulate you better than flimsier varieties.
Here at Coofandy, we offer an array of rugged linens that are winter-ready. Thick, durable weaves provide warmth while maintaining linen's signature breathability. Search for linens in at least a mid-weight - the heftier the better for retaining heat. Stick to 100% natural fiber linens for optimal insulation.
Layer Properly Under & Over Linen Pieces
Layering is a must in cold weather. But when styling linen, strategic layering becomes the key. The trick is wearing linen pieces over thermal base layers that provide insulation and topping them with outerwear for weather protection.
Try layering a linen button-down or polo shirt over a long sleeve base layer top made from a thermal fabric like merino wool. The fitted underlayer will add extra warmth without bulking up your silhouette. Next, slip on a cozy down or wool overcoat to lock in heat while looking sharp.
For a more casual look, layer a linen sweater or cardigan over your base layer and under a winter jacket like a parka or bomber. A lightweight linen blazer also pairs perfectly over a thermal Henley and under a stylish topcoat.
Winterize Linen Bottoms
Linen pants may seem counterintuitive once the temperature drops. But with some simple adjustments, you can definitely sport linen bottoms in the chillier months.
Start by picking a straight leg cut that's easy to cuff over boots or high-tops. Cuffing seals in warmth and shows off your stylish winter footwear. Pair cuffed linen pants with warm socks in rich colors and textures like cable knit.
For particularly frigid days, there is a small tip to share:put on a thermal base layer underneath your linen pants for an extra layer of insulation. You can also try wearing linen trousers over long johns or leggings for serious cold weather coverage. Just make sure that your top layers are long enough to cover the bottom ones.
Accessories Are Your Winter Allies
Beyond your core layers, accessories help tie complete cold weather looks together. Don't shy away from integrating wardrobe basics like beanies, gloves and scarves into linen outfits.
A knitted beanie adds a cozy finishing touch to linen button-downs and shackets. Leather gloves lend refined elegance and keep hands toasty. Loop a cashmere scarf around your neck to infuse soft warmth into any linen ensemble.
Even your footwear and socks make a difference. Lace up leather boots or high-top sneakers in the winter for shoe styles with covered ankles. And slip on wool or alpaca socks for insulating luxury. Accessories take linen to the next level.
Top It Off With Winter Outerwear
Any good winter outfit starts with smart outerwear choices. The same goes for linen. Combine linen tops and bottoms with stylish coats and jackets to tie the full look together.
For a classic vibe, wear linen button-downs under wool peacoats, tailored topcoats or camel overcoats. With a trench coat, choose linens in matching earth tone hues. And style polished linen-blend blazers under down puffer jackets for extra insulation.
More casual coat pairings include tossing on a parka, fleece-lined jacket or sherpa-trimmed coat over a linen hooded sweatshirt, polo or sweater. Even layering chunky knit cardigans over linen shirts then topping the whole outfit with a windbreaker jacket works.
Opt For Rich Winter-Friendly Hues
Linens come in every color under the sun, from solid neutrals to bold brights. For winter wear, stick to darker, richer and more saturated linen shades. Think wintery neutrals like chocolate brown, navy blue and forest green or primary tones like maroon, olive and mustard yellow.
Lighter pastel linens or those in white/cream can feel too spring-summery once winter hits. Deep, dark hues have a cozier vibe and feel appropriate for the cooler months. Pairing tonal linens in winter-friendly shades creates a pulled together look.
Recap: Key Tips for Men Wearing Linen in Winter
With the right styling moves, linen can transition seamlessly into your cold weather wardrobe. Just remember to:
Seek out thick, heavyweight linen fabrics and blends
Layer linen pieces properly over thermal base layers
Cuff and winterize linen pants
Incorporate warm accessories into linen outfits
Top it off with winter jackets and coats
Opt for rich, darker linen colors
Following these tips, you can enjoy linen's comfort and breathability even when temperatures drop. With smart layering choices, linen works wonders in winter.
Read More
---