Men's Linen Pants: Embrace the Breezy Sophistication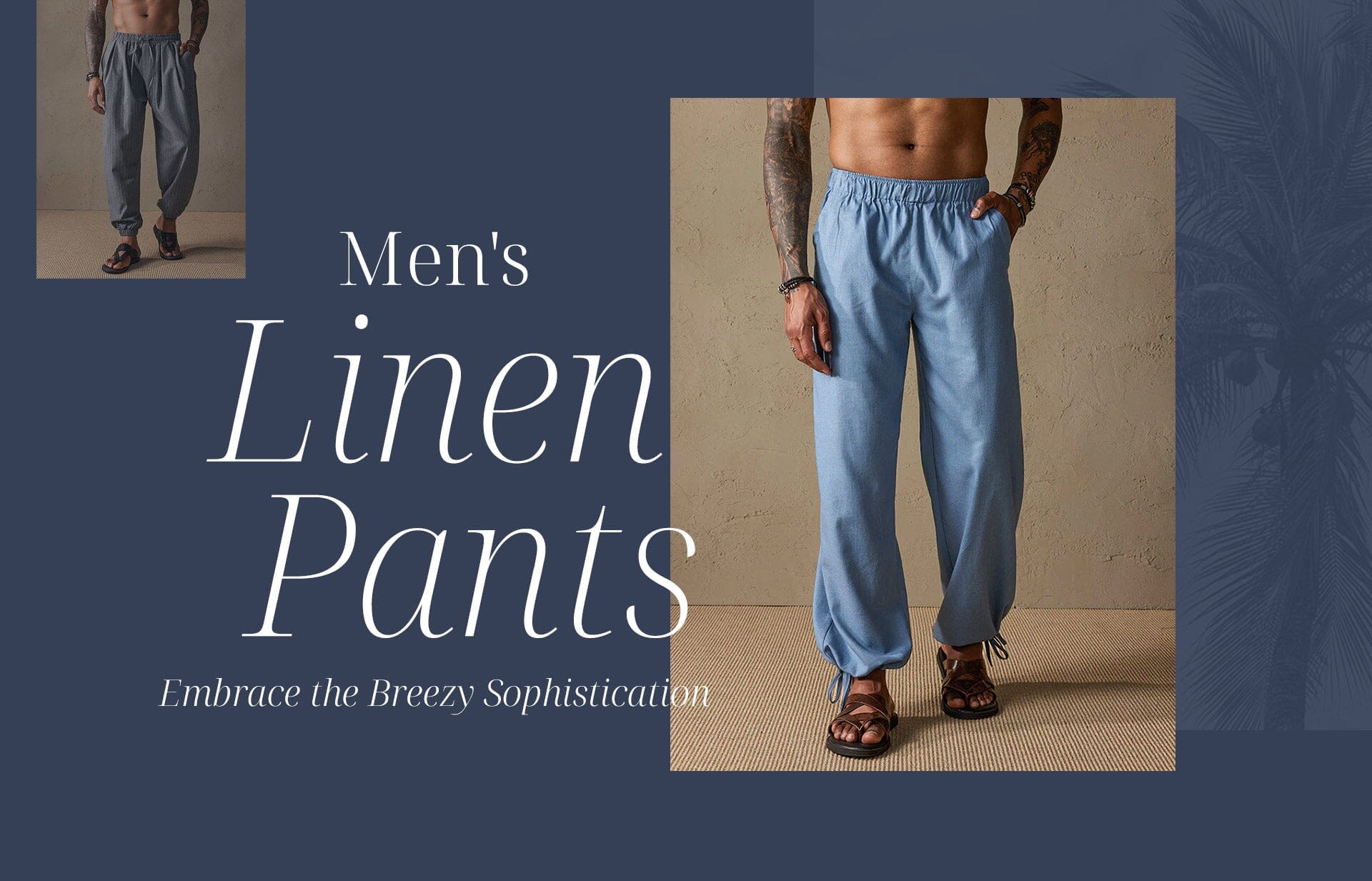 Navigation
Refresh your warm weather style and embrace breezy sophistication with men's exclusive linen pants - the timeless, comfortable summer favorite for men. Linen's breathable, airy fabric keeps you cool on hot days while still looking put together. The natural-fiber linen pants require minimal styling for a clean, classic look that complements everything from a basic T-shirt to dress shoes. Whether you pair them with sneakers for an effortlessly cool vibe or dress them up for the office, linen pants offer cool comfort with style. This season, upgrade your summer wardrobe by adding some lightweight linen bottoms that let you stroll in style. In this blog, we'll cover why we will recommend linen pants, the advantages of this nature-fiber fabric, and our suggestions for men's linen pants, in terms of how to style men's linen pants with different tops, and also the color recommendation.
Embracing Comfort in Summer
Linen pants for men were made for warm weather comfort. The natural fibers that make up linen fabric contain properties that work perfectly for summer. The hollow tubes in linen yarns allow for maximum breathability, wicking moisture and heat away from the skin. Linen's low-density weave also allows for greater airflow compared to other fabrics, keeping you cool on hot days. Unlike cotton, linen actually gets softer and more comfortable the more you wear and wash it. As the fibers relax and spread, linen pants become even more breathable and drape more comfortably on your legs. So embrace the comfort - walk, sit, bend and move freely without restricting heat or dampness. The simple act of putting on a pair of linen pants can instantly make you feel 10 degrees cooler on a hot summer day. Linen pants welcome warmth while easing your mind, letting you embrace comfort during warm weather months.
Casual Loose Fit Cotton Linen Straight Pants
The Versatility of Men's Linen Pants
Linen pants for men come in a variety of styles and cuts to suit different tastes and occasions. The most common men's linen pants options include:
Classic chino pants: A traditional cut with four pockets, slim or relaxed fits. Chinos are versatile and ideal for both casual and dressier wear.
Pleated trousers: More formal cuts with signature front pleats. Pleated linen trousers Transition easily from the office to evenings out.
Loose fit pants: Casual loose fit pants made of linen and cotton, i The men baggy harem pants features with loose fit, wide leg, solid color, ankle length, two deep side pockets, stretchy waist with adjustable drawstring.. Perfect for warm-weather weekend wear.
Loose Fit Linen Style Hippie Pants (US Only)
Regardless of cut, men's linen pants can be dressed up or down with careful styling. Pair chinos or pleated trousers with dress shirts and loafers or sneakers for an office-to-evening transition. Style cargo pants with graphic tees, sandals and bucket hats for a laidback weekend look. Linen allows for wrinkles while maintaining a put-together appearance, so feel free to experiment with drapey cuts and relaxed styling for an effortless summer aesthetic.
What are some good ways to style linen pants for a casual summer look?
Wear with a simple graphic tee - The contrast of the loose, wrinkled linen pants and the straightforward tee creates an effortlessly cool casual outfit.
Pair with chunky sneakers - The combination of roomy linen bottoms and chunky sneakers like Vans or Converse embodies a youthful, laidback aesthetic.
Roll up the hem - Casually rolling or cuffing the hems of your linen pants a few times exposes your ankles and makes the outfit feel even more relaxed.
Add an unstructured linen shirt - Layering a similarly textured linen shirt over your linen pants creates visual coherence and texture harmony for an easygoing yet stylish outfit.
Wear with an open button down - Throwing on an untucked, open plaid or denim shirt over your linen pants gives your outfit a thrown-together-but-I-tried vibe.
Top with a baseball cap - Completing the casual ensemble with a simple baseball cap speaks to the effortless, no-fuss nature of linen pants styled for warmer weather.
The key is to pair linen pants for men with simple, lightweight basics that allow the breathable, drapey nature of the fabric to shine through. Let the relaxed silhouette and wrinkles work in your favor to create a cool, put-together-but-not-trying-too-hard look.
What are some good colors to pair with linen pants?
Navy linen pants: Pair with white, light blue or pastel shades for a breezy, summery look. Navy also pairs well with earth tones like tan, khaki and olive.
Casual Stripe Beam Feet Cotton Linen Pants
Beige linen pants: Go with navy, light gray, or white tops for a crisp, polished combination. Earth tones like olive and rust also complement khaki well.
Coofandy Casual Elastic Waist Loose Pants
Light gray linen pants: White, black and navy tops provide high-contrast pairing options. Pair with pastel pink, yellow or blue for a softer color scheme.
Cotton Linen Style Casual Pants
White linen pants: Black, navy and gray tops create monochrome outfits. Neutral earth tones from sand to olive also work well paired with whites.
Casual Cotton Linen Style Pants
Dark brown linen pants: Pair with neutrals like gray, black and white. Also try bolder hues like mustard yellow, muted reds and teal for a colorful outfit.
Casual Loose Style Beach Pants
Black linen pants: White, gray and navy tops offer versatile options. Consider lighter colors like mint green, blush pink and tan to help the black linen pants feel a little fresher for summer.
Linen Style Button Hem Capri Pants
In general, try coordinating the colors of your linen pants and top to create visual harmony. Neutrals and earth tones usually provide the safest bets. Then accent the look with a pop of color from your shoes, cap or accessories.
Read More
---