Beat the Heat with Cotton Linen Pants: The Ultimate Summer Men's Wardrobe Staple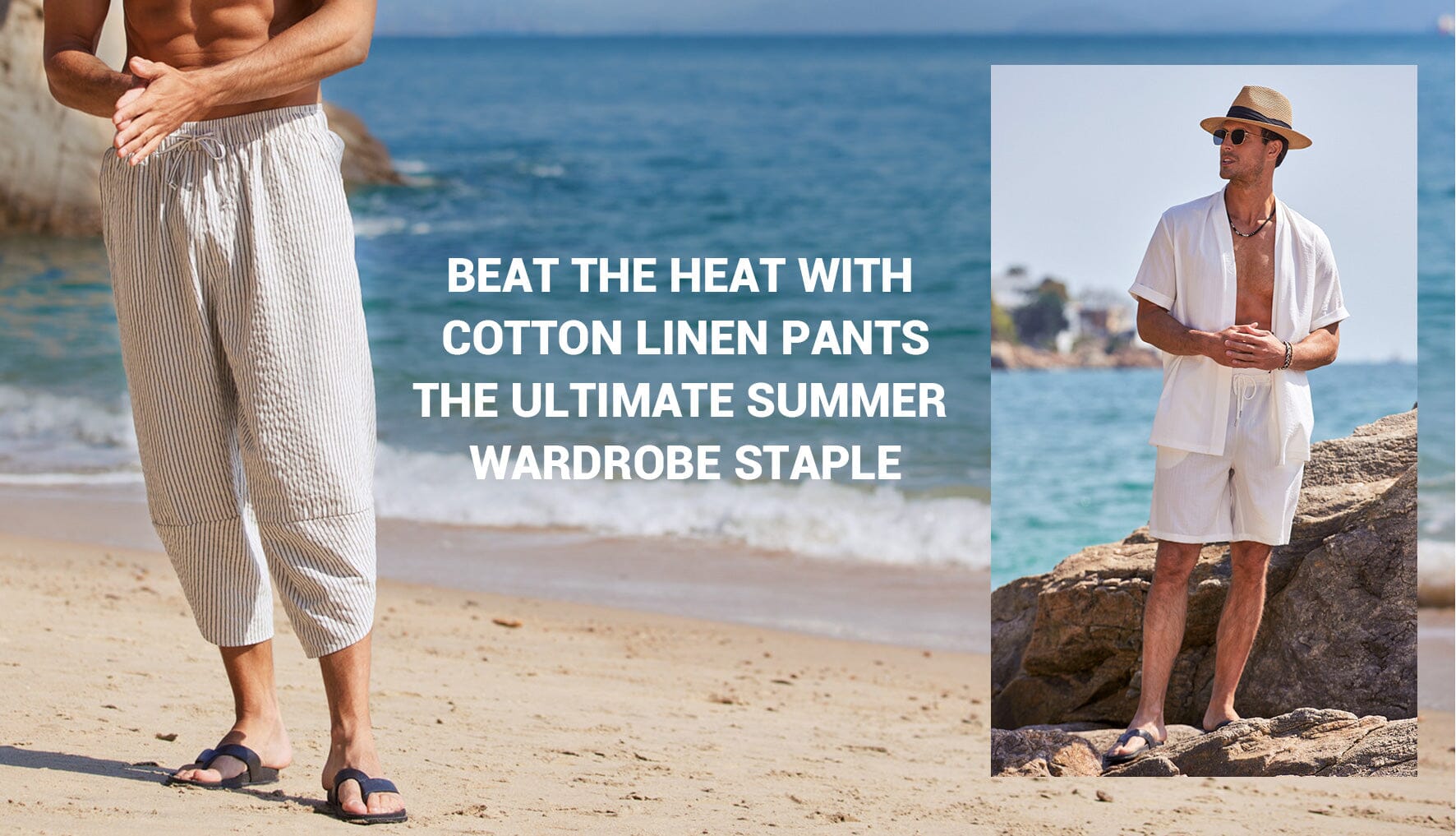 Navigation
Summer heat can make it challenging to stay cool and comfortable while still maintaining your style. Linen and cotton fabrics are essential for beating the heat without compromising on fashion. Among the most versatile and breathable options are definitely the cotton linen pants - the perfect summer wardrobe staple.
Cotton linen pants provide the breathability of linen with the added durability and comfort of cotton. They keep you cool through intensely warm weather while also being comfortable enough for daily wear. Whether casual and relaxed or dressed up for work, cotton linen pants enable you to look and feel your best in the summer heat.
Cotton linen pants have everything you need to stay ventilated and chic this summer: breathability, comfort, and versatility. Stay cool yet on-trend wherever your summer adventures lead you. This stylish and sustainable staple is ideal for embracing warm weather in comfort and comfort in style.
Why Cotton Linen Pants Are the Best Choice for Summer?
Cotton linen pants offer the perfect blend of breathability, comfort, style, and versatility for summer wardrobes. From work to weekend and day to night, cotton linen pants are a stylish and versatile essential for men's summer fashion. They keep you cool yet look and feel put together, with options for every taste and need. Cotton linen pants are simply the best choice for a summer of style and comfort. The outstanding performance offered by cotton linen pants includes:
Breathability: Cotton linen fabrics are extremely breathable, allowing maximum airflow to keep you cool. Cotton linen pants will wick away moisture and prevent overheating, even in intense heat. They are the perfect lightweight and ventilated option for summer.
Comfort: While breathable, cotton linen pants also provide comfort. Linen adds slight stiffness and structure, while cotton softens the fabric. The result is comfortable yet not too casual pants. Cotton linen pants will feel lightweight yet lived-in, perfect for a relaxed summer day or week.
Versatility: Cotton linen pants are endlessly versatile and can be dressed up or down as needed. They are casual enough for summer weekends but can also be styled professionally for work. Cotton linen pants transition seamlessly from day to night and from work to play.
Style: Cotton linen pants offer an on-trend, put-together summer look. Linen pants in cotton linen blends come in a range of colors, patterns, and washes for different styles. From light khaki to navy to patterned styles, there are options for every taste and preference.
Sustainability: Linen and cotton fabrics are natural, breathable, and sustainable. Cotton linen pants are better for the environment since these fabrics are renewable and biodegradable. They are a more eco-friendly choice than synthetic summer pants options.
Wrinkle resistance: Although linen wrinkles easily, cotton linen blends help reduce wrinkling compared to pure linen. Cotton linen pants will still require ironing but are more durable and require lower maintenance. They stay looking their stylish best with minimal wrinkling.
For versatile, breathable, and stylish summer essentials, cotton linen pants deliver. They are simply the best choice for cooling comfort and chic fashion from dawn to dusk and beyond.
How to Wear Cotton Linen Pants to Style Up for the Summer?
Cotton linen pants for men offer endless stylish possibilities for summer. Pair them casually with t-shirts, polo shirts, and button-up shirts, or dress them up for work. You may first visit Coofandy's site to find some pants styles you like: Coofandy Cotton Linen Pants Collection, and then choose the matching shirts and accessories.
Styling suggestions for tops
T-shirts: Vintage t-shirts, linen t-shirts, or cotton t-shirts all provide breathable warmth without heat. Tuck in or leave untucked for the ultimate relaxed summer style. T-shirts are ideal for low-key summer comfort.
Polo shirts: Polo shirts in cotton or linen keep you cool yet still styled enough for work or play. Navy, mint green, and pastel polos pair brightly with cotton linen pants.
Button-up shirts: Lightweight linen or cotton button-up shirts are perfect for balancing style and summer heat. Opt for short or long sleeves based on temperature and occasion. Roll up the sleeves or open a few buttons for extra ventilation.
Styling suggestions for shoes
Sandals: To keep feet cool and stylish, sandals are essential. Flip flops, slides, wedges, or strappy sandals in neutral colors and natural materials are versatile and wearable options.
Loafers: If slightly dressier shoes are needed, linen fabric loafers or light tan or off-white leather loafers are excellent summer choices. They look polished yet breathable paired with cotton linen pants.
Sneakers: For an edgier sporty look, white leather sneakers, linen lace-up sneakers, or cotton canvas sneakers provide breezy cushioning and style. They keep feet cool on hot summer days out and about.
Styling suggestions for accessories
Sunglasses: No summer outfit is complete without sunglasses to protect eyes from sun glare. Polaroids, aviators, wayfarers, and cat eye styles complement a summer look of cotton linen pants styled casually or professionally.
Hats: To shield from the sun, linen baseball caps, cotton trucker hats, or straw fedoras offer stylish shade. Pastel colors and minimal patterns prevent extra heat while still keeping cotton linen pants the focus.
Watches: Complete your cotton linen pants look with a casual summer watch. Options with minimal, linen, or leather straps in sand, gold, or navy balance styles and match other accessory tones. Simple analog or digital dials avoid visual clutter.
Versatile yet livable, men's linen cotton pants effortlessly embrace summer style and weather. Pair them with breathable, lightweight layers for a functional summer wardrobe with endless styling possibilities. The options for balancing casual comfort and polished professionalism provide stylish flexibility.
In conclusion, cotton linen pants are a seasonal staple that lets your personal style shine through. They are the perfect blank canvas for expressing whatever summer has in store. Stay cool yet on-trend from morning to evening and beyond.
Read More
---