Coofandy's Biggest Sale of the Year for 2023 - Chase the Time!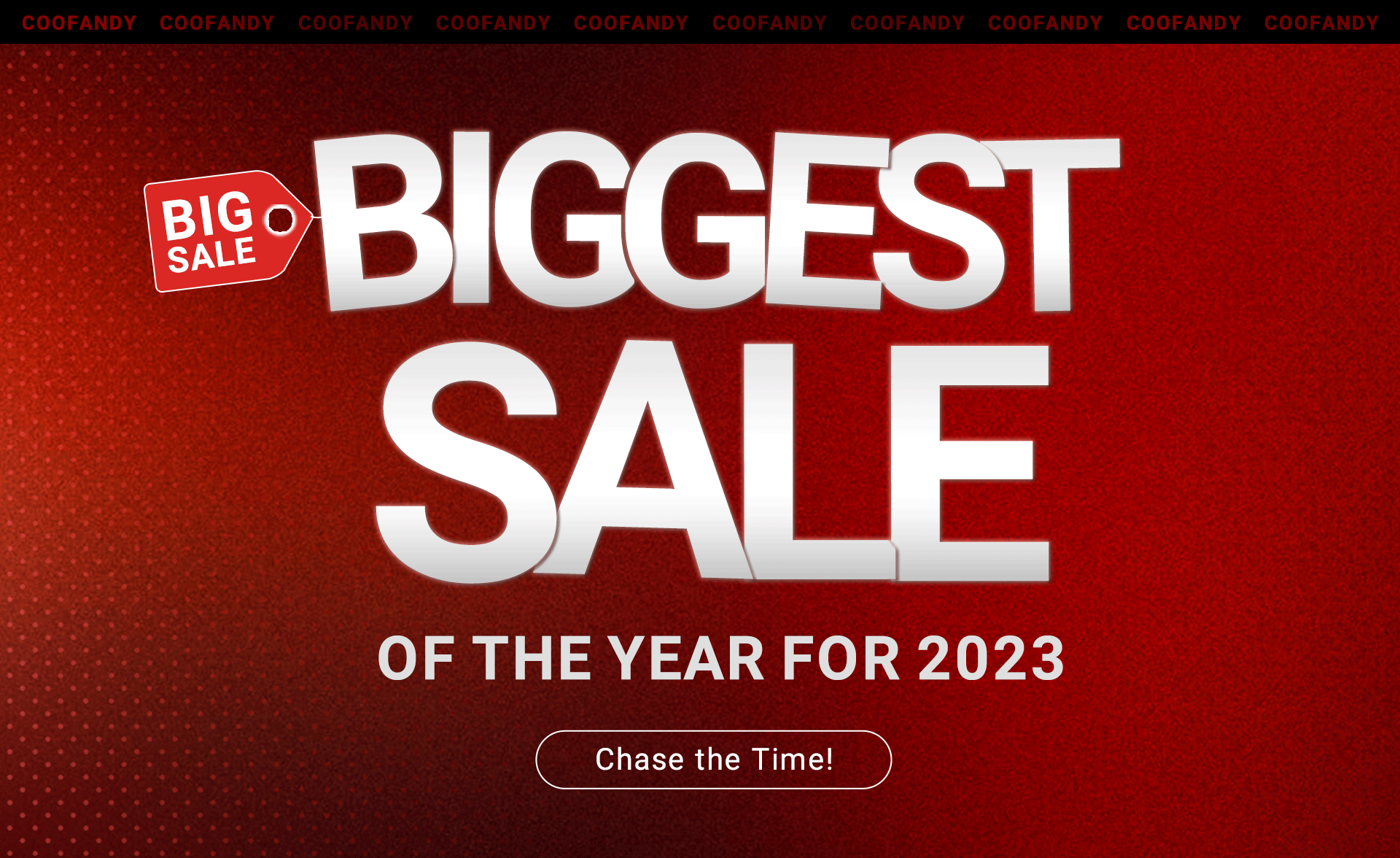 Hey friends! We have exciting news to share - Coofandy's BIGGEST sale of the year is happening right now! You don't want to miss these incredible discounts and deals that we have lined up for a very limited time.
For a few days only, we're offering our steepest discounts and best promotions of 2023 so far. This is the sale you've been waiting for, and the time to shop is NOW before it's too late! Read on for all the fabulous details.
Buy 2 Get 3rd 50% Off + Buy 3 Get 4th 80% Off + Buy 4 Get 5th Free for All Items Sitewide
We're taking discounts to the next level with our tiered promotion that rewards you more the more you shop.
Buy 2 items, and get a 3rd 50% off. Buy 3 items, and take a whopping 80% off a 4th piece! And if you buy 4 pieces, you'll get a 5th totally FREE!
Stock up on all your Coofandy favorites - like our super-soft yoga pants, effortlessly chic tunics, and comfy stretchy bodysuits - while taking advantage of these stacked savings.
Mix and match your styles and colors to create the perfect wardrobe that takes you from studio to street. The more you buy, the more you save!
Men's Shirts, Jackets, Tees & Polos
Free Gifts for $129+ Orders
On top of our tiered discounts, we're also offering free gifts for orders over $129! Reach this spending tier, and you'll receive a totally gratis Coofandy item like a scarf, hat, necklaces, and wristbands. A special thank you gift for our valued customers!
30% Off on All Clearance Items
We've slashed prices to 30% off on all remaining clearance items while supplies last during the sale! Hurry and grab your fave pieces that are about to sell out for good at these rock bottom prices. If you are buying other items together with the clearance items, you can fist get the clearance item on 30% off its original price and can still enjoy the promotion of "buy 2 items, and get a 3rd 50% off. Buy 3 items, and take a whopping 80% off a 4th piece! And if you buy 4 pieces, you'll get a 5th totally FREE!"
Once they're gone, they're gone for good! So treat yourself to Coofandy casual sets, tops, shorts and more on clearance items before this flash deal disappears.
Flash Sale Up to 70% Off
Keep your eyes peeled for special Flash Sale deals offering up to 70% off select styles for 24 hours only!
Flash Sales will pop up unannounced during the sale timeframe, but the insane discounts will vanish just as quickly. These 70% off steals sell out fast, so jump on them immediately and get your favorites for a fraction of the price.
Yoga Collection 15% Off
We're offering 15% off our entire Yoga Collection right now including fan-favorite styles that rarely go on sale!
Shop the linen yoga pants, linen leggings, linen shorts, linen tops and more that Coofandy customers know and love for a bit less right now. Stock up on staples from this perennially popular collection now that prices have dropped.
Share for Commission
Help spread the word about our epic sale by sharing it with your family or friends, and you'll earn commission! For every purchase made by someone you referred, you'll receive commission as a thank you for promoting our brand. So go ahead - share away on social media, tell your friends in person or forward emails. The more you share, the more commission you could earn during this limited-time sale event.
Wrap Up
There you have it - all the spectacular savings happening now during Coofandy's biggest sale of the year so far. This is a sale you definitely don't want to miss.
Take advantage of tiered discounts, flash deals, free gifts, shared commission, and more WHILE YOU STILL CAN! These offers won't last long.
Shop now before the sale ends! Fill your cart, check out, and treat yourself to Coofandy favorites at our best prices ever. Just chase the time before these epic deals disappear. Happy shopping!
Read More
---