Find Inner Peace in Nature's Embrace - The Sustainable Men's Yoga Clothing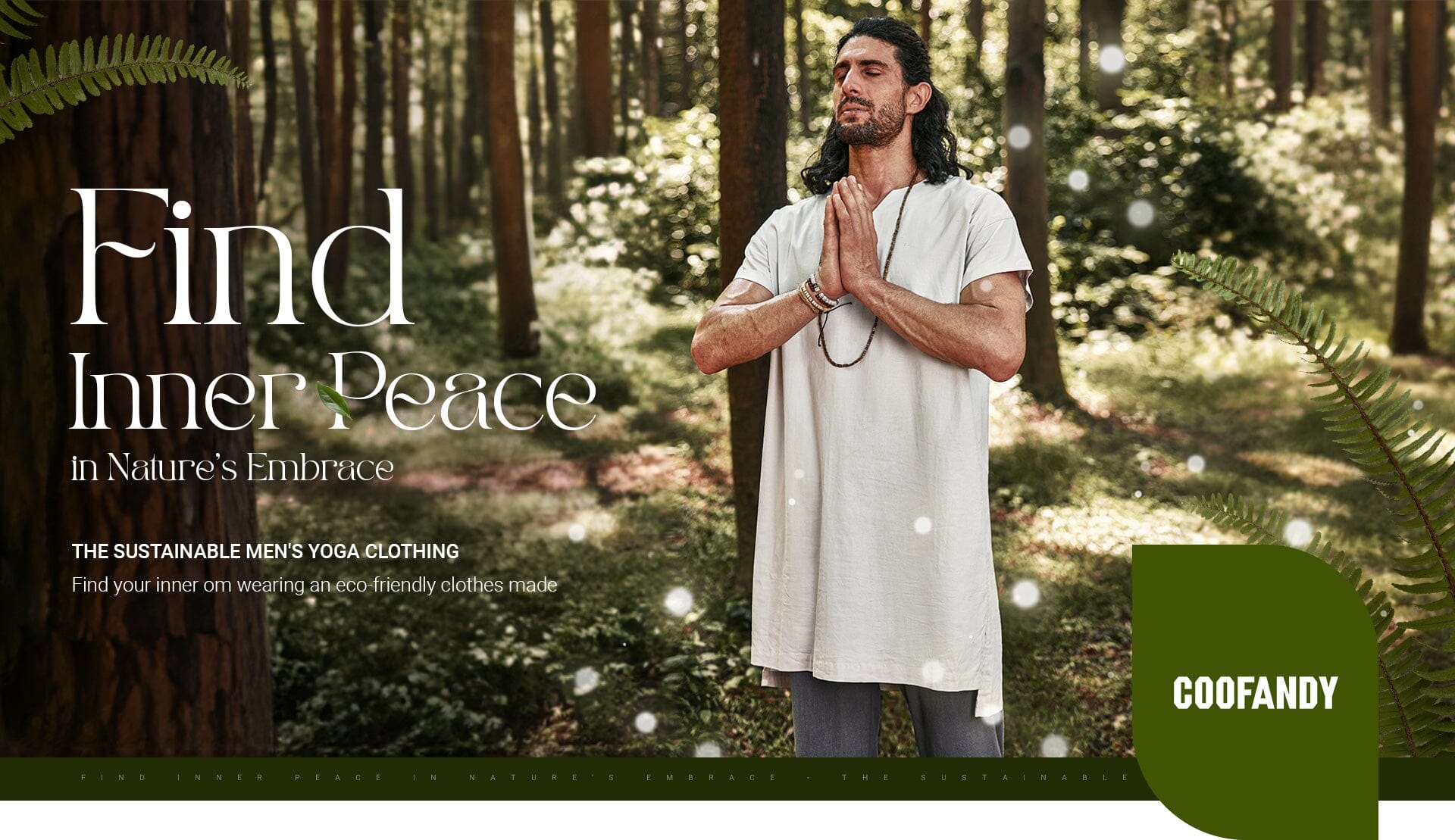 Navigation
Yoga allows us to block out the chaos of life and find inner calm. But attaining that mind-body connection can prove difficult when you don't feel comfortable in your yoga wear. The stylish new sustainable men's yoga clothes helps you find that inner oasis. Its natural linen blend fabric embodies the zen vibe you crave on the mat. Keep reading to learn why this multifunctional clothes is perfect for yoga, meditation, lounging, travel and more.
This ingeniously designed yoga clothes provides the stretch and breathability you need to move freely during practice. The antimicrobial linen blend fabric stays fresher while wicking moisture. Meanwhile, the relaxed fit accommodates all body types. Whether you're tall, short, big or small, you'll feel at total ease in this non-restrictive garment.
More benefits arise from the sustainability factor. Synthetic workout gear harms the environment over time. But this cotton and linen clothes aligns better with yoga principles. Find your inner om wearing an eco-friendly clothes made from nature's fibers.
Key Features and Benefits of Coofandy's Men Yoga Clothes
Let's explore all this versatile yoga clothes has to offer for mind, body and soul:
Natural linen blend fabric with antimicrobial properties to prevent odors after sweaty sessions.
Lightweight and breathable fabric keeps you cool during hot yoga or meditation.
Loose, relaxed fits allow complete freedom of movement and stretching.
Soft, comfy feel helps relieve stress and tension.
Absorbs moisture to prevent wet clinginess during workouts.
Comes in the most inclusive size range possible from S-3XL.
Available in linen's natural earthy color palette.
Suitable for yoga, meditation, pilates, and other mind-body activities.
Can be worn as a coverup, for travel days, and casual lounging.
More sustainable than synthetic athleticwear, reducing environmental impact.
Natural fibers provide a comforting embrace to help you find inner peace.
How to Get the Most of the Yoga Clothes during Yoga Practices?
To get the most out of your yoga sessions in the clothes, take full advantage of its fluid range of motion. Flow smoothly through vinyasa sequences, bending and stretching with ease. The loose-fitting clothes allows you to fully extend into each pose without any constraints or restrictions from tight, clinging fabrics. Feel the soft linen against your skin, helping you find focus and release tension. The antimicrobial properties prevent odors, so you can hold challenging postures like Crow Pose without worry. Clearing your mind is easier when you aren't distracted by clothing discomfort. This clothes has your back (and legs, arms, and torso) through every yoga and meditation practice.
How to Style the Yoga Clothes for Class and Everyday Wear?
This yoga clothes isn't just for downward dog. You'll want to sport it everywhere from the studio to the street:
Combine with sandals or sneakers for running errands or casual activities.
Layer under hoodies or jackets when temperatures get cooler.
Pack it for vacation - it doesn't wrinkle easily!
The possibilities are endless with this multifunctional clothes embracing the change of seasons. Transition from summer to fall to winter with ease. This four-season clothes provides tranquility all year round.
Experience Inner Peace in a Sustainable Yoga Clothes
Finding inner calm starts with feeling comfortable and free in your own skin. Coofandy's men yoga clothes helps create the perfect balance with its zen linen fabric, unrestricted silhouette, and eco-friendly design. Made with only natural fibers, it keeps you cool, dry and focused during mind-body activities.
Beyond yoga, it seamlessly brings total comfort into every aspect of your lifestyle. Allow Mother Nature to embrace you in this special garment aligned with inner peace principles. Rediscover your inner oasis each time you slip on this versatile sustainable clothes.
Read More
---