How to Find the Perfect Pair of Jeans - A Guide for the Middle Aged Gentlemen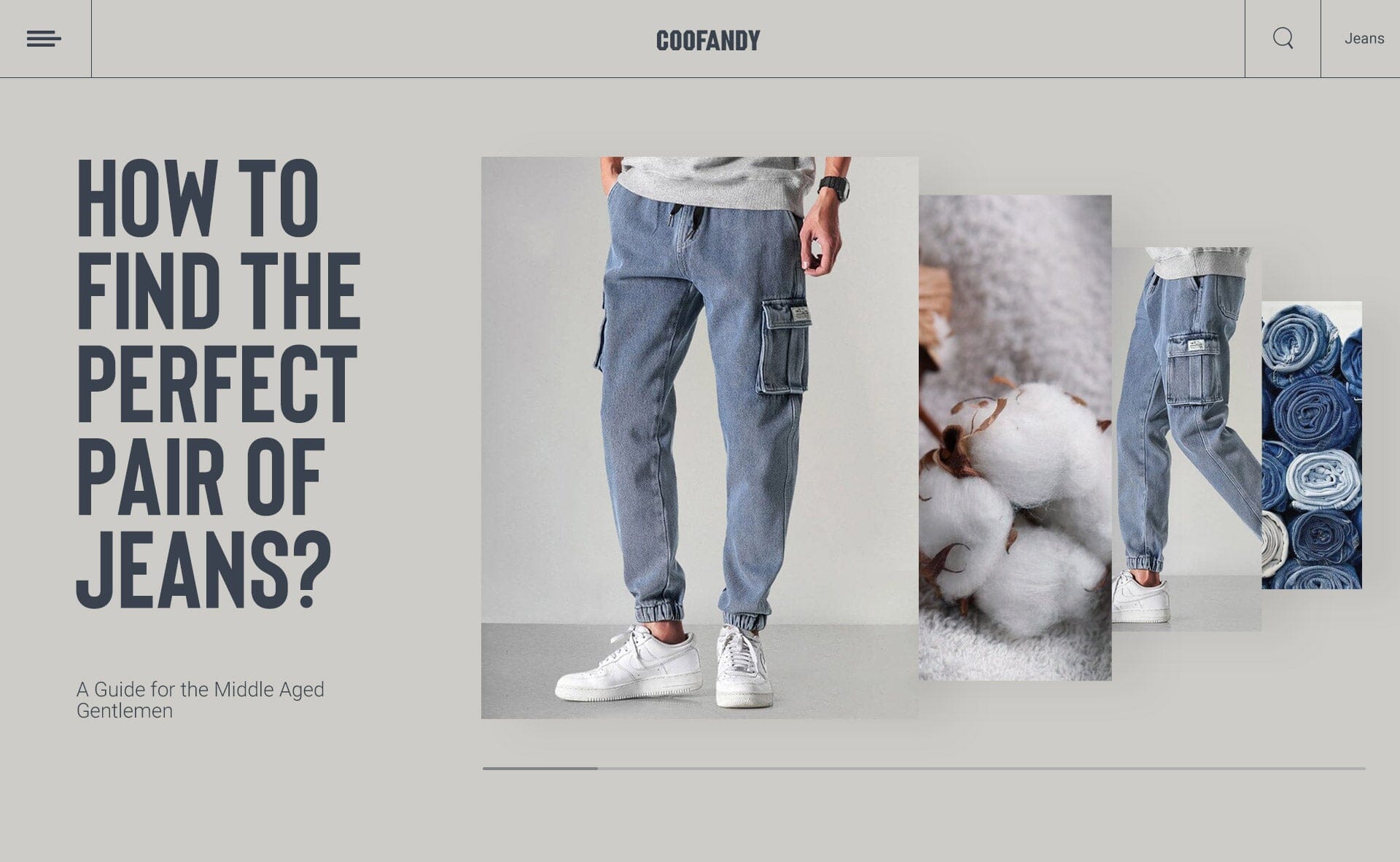 Navigation
How to Find the Perfect Pair of Jeans-A Guide for the Middle Aged Gentlemen
Jeans are a true wardrobe essential for everybody. Is there anyone out there who has never owned a pair of classic denim jeans? These legendary pants are durable, versatile, and easy to dress up or down. Walk into any clothing store and you'll be overwhelmed with options - jeans stacked on top of jeans as far as the eye can see. But variety isn't always a good thing. All these fits, cuts, and washes can make finding that perfect pair seem complicated. You might already get confused by the cuts before trying the fit.
The Four Fits
Jeans generally fall into one of four main fits - relaxed, straight leg, slim, and athletic cut. The best fitting pair depends on one's own taste and how they like to dress. Ultimately, someone should try different fits from each category in their usual size to see what makes them feel confident and comfortable. Some may prefer a classic straight leg for versatility, while others opt for a fitted slim or skinny style if they enjoy emphasizing their shape. The right jeans are the ones someone feels great wearing based on their personal sense of fashion. Fit is very subjective, so finding the right pair is about experimenting to suit one's own unique style.
Relaxed Fit Jeans
A relaxed fit jean is roomy throughout the seat and thigh with a straight or slightly tapered leg. The generous cut allows freedom of movement and space to breath. For men who are thick around the middle or have muscular thighs, relaxed fit is the way to go. You'll avoid the dreaded button gap at your waistline and chafing in the thigh zone. Sitting, bending, and working around the house are comfortable in these jeans. Just avoid a sloppy baggy look by trying a few brands to find the right rise and straight leg opening. The relaxed fit flatters bigger guys but can also work for lanky builds looking to avoid a skinny jean look.
Casual 100% Cotton Cargo Jeans - Elastic waist, side pockets, perfect for everyday style
Straight Leg Jeans
Straight leg jeans maintain a straight, uniform leg from the thigh all the way to the hem. There is no taper or narrowing at the ankle. This classic fit provides a bit more room in the seat and thigh than slimmer cuts but avoids excess fabric that can look sloppy. For muscular or stocky men, straight leg jeans offer a polished, tailored look. Pair them with a tucked in shirt or casual untucked button down. The straight silhouette is versatile for both work and weekend wear.
Casual Straight Jeans - Ideal for Daily Wear Outdoor Activities
Slim Fit Jeans
A slim fit jean hugs the body from thigh to ankle. With a trim silhouette from hip to hem, slim fit jeans have a sleek, modern vibe. If you've got skinny legs and a smaller waist, these will likely be the most flattering on your frame. Look for some stretch in the fabric and be mindful of the rise - mid to high rise slim jeans are your best friend. The narrow leg opening showcases dress shoes and boots. Just beware of the dreaded "skinny jean" look if sizing down too much - leave a little breathing room.
Stylish Slim Fit Torn Jeans - Comfortable Versatile
Athletic Cut Jeans
Also called "muscle fit", athletic cut jeans cater to guys with larger, muscular thighs and rear ends. They are roomier through the hip and thigh with a serious taper below the knee. The tailored leg showcases toned calves. For muscular men who like a sleek silhouette rather than relaxed fit, athletic cut is the ticket. You'll get the flexibility you need while showing off those squatting gains. Just be cautious of too dramatic a taper if you have larger knees or ankles. The goal is a flattering silhouette, not cutting off circulation.
Stylish Beam Feet Jeans - High Stretch Waistband, Daily Wear
How to Find Your Perfect Fit
To find yourself the perfect fit of jeans, you need to first decide on the fit based on your personal style or preferences, and then there are four key factors that impact the comfort and look of jeans, including: rise, waist size, flexibility, and leg openning:
Rise - Low, mid, and high rise jeans all sit at different points on your waist and offer different coverage for your backside. Make sure you get adequate coverage while avoiding embarrassing plumber's crack.
Waist Size - Size up rather than squeezing into a smaller size that pinches and gaps at the waist. Proper fit through the waist is essential.
Flexibility - When choosing your new pair of jeans, we would recommend opting for ones that have a small amount of stretch or elasticity. The stretch will make the jeans more comfortable to wear all day without restricting your motions. You'll have an easier time bending, squatting, or reaching in jeans with a touch of give to them.
With knowledge of the main jean fits and a few tips on nailing the specifics, you can approach jean shopping with confidence. Identify your fit, be honest about your problem areas, and don't compromise comfort for size. The perfect pair is out there - you just have to weed through the vast denim sea strategically. Pretty soon you'll be rocking your new go-to weekend jeans that feel like they were made for you.
Read More
---