Sun, Sand, and Style: Add These Trending Men's Beach Shirts to Your Collection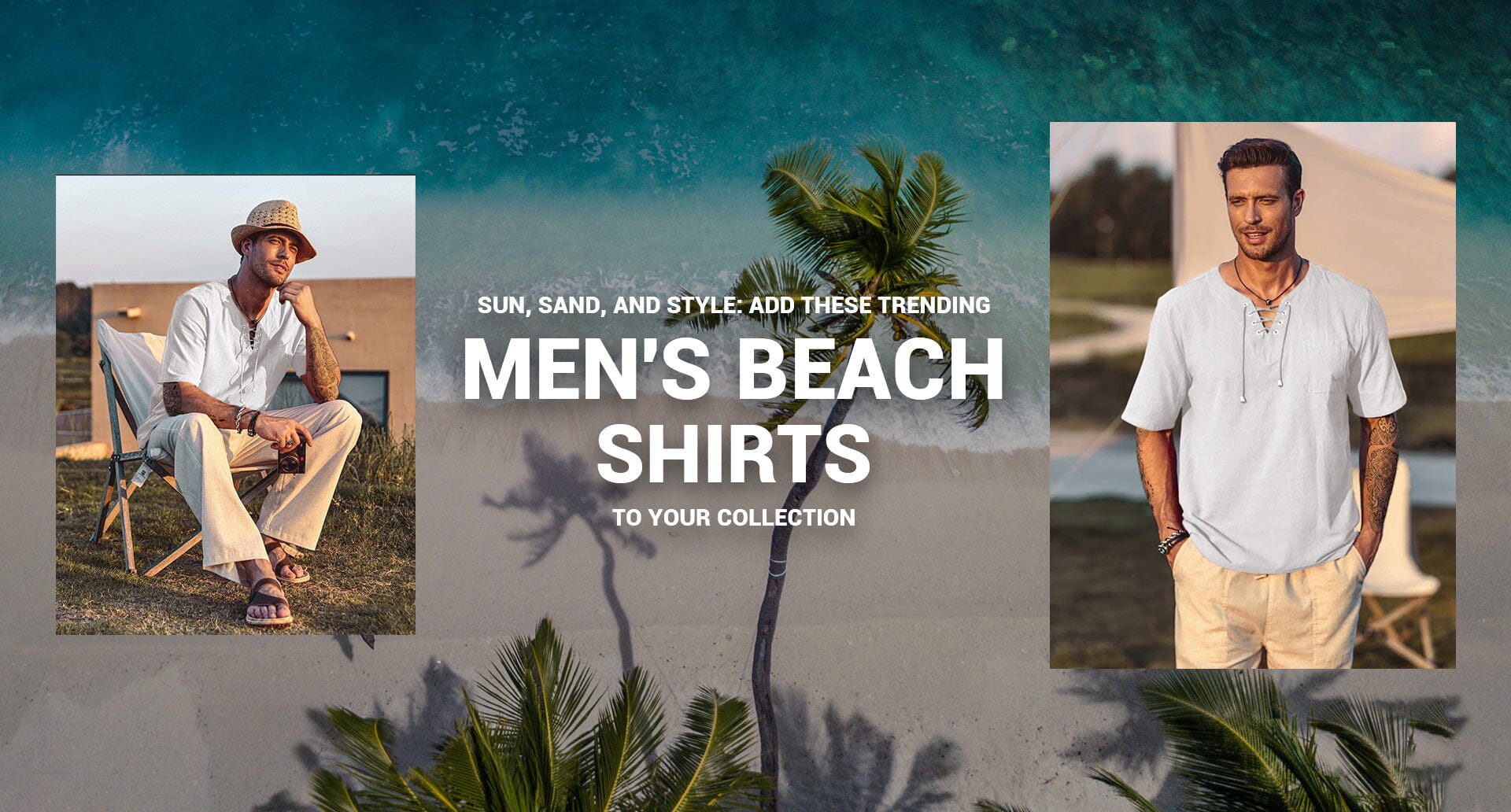 It's time to enjoy warm weather, beach vacations, and poolside lounging. And an essential part of any resort wear wardrobe for men is a stylish beach shirt. From linen button-ups to tropical print polos and lightweight plaid overshirts, beach shirts add comfort, casual flair, and fun vibes to your vacation looks. This season, trending styles include boxy henleys, long sleeves for sun protection, and bold palm tree prints. Add these chic yet laid-back shirts to your collection to elevate your resort wear game and make every moment in the sun feel like a fashion moment. Whether strolling the boardwalk, soaking up rays, or grabbing drinks with friends, a great beach shirt helps you enjoy that ideal beach lifestyle.
Embracing Current Trends of Men's Beach Shirts
This summer, many hottest trends for men's beach shirts embrace a relaxed yet stylish aesthetic that balances comfort and performance. Linen remains a top choice for its breathable, lightweight properties that keep you cool in the sun. But shirt styles are moving in a more oversized, roomy direction that allows for unrestricted movement and airflow.
Seasonal Colors and Prints
Bold tropical prints and vivid colors are on trend this season. Palm leaf prints in green, turquoise, and yellow tones feature prominently in quite a few styles. Henley shirts and polos are available in neon orange and minty green. Earthy prints incorporating patterns of seashells, starfish, and marine life feel quintessentially beachy.
Long Sleeves for Protection
Many men's beach shirts now offer longer sleeves for better sun protection. Beyond traditional 3/4 sleeves, some styles offer full-length sleeves that can be rolled up when needed. This allows you to choose how much sun exposure you want while wearing a stylish shirt. From lightweight plaid overshirts to breathable technical fabrics, the options for sun-safe long sleeve beach shirts are growing.
What Trending Men's Beach Shirts that We Suggest adding to Your Collection?
1. Casual and Relaxed: T-shirt Style Beach Shirts
Nothing says laid-back beach style like a simple T-shirt. Their softness and ease make them a classic for poolside lounging and boardwalk strolls.
Various comfortable fabrics like cotton, polyester blends, and technical synthetics make for a casual beach top you'll hardly realize you're wearing. Wear these breathable staples or layered under a button-up for day-to-night versatility.
Casual Linen Style V Neck Shirts
Look for relaxed fits that allow a full range of motion and light weights. Graphic tees featuring retro surf motifs, funny slogans, and colorful patterns provide visual interest without compromising comfort.
2. Classic and Sophisticated: Button-Up Beach Shirts
Button-up shirts never truly go out of style and are a refined choice for the beach. Their tailored design looks handsome or worn open over a T-shirt.
Linen and lightweight cotton options provide breathable sophistication. Neutral plaids, checks, and subtle stripes evoke a nautical vibe without looking try-hard.
Wear fully buttoned for a dressier evening by the water or left open for an easy daytime look. Accessorize with shades, beach hats, and jewelry for a casual-chic aesthetic that bridges vacation and formal occasions.
3. Versatile and Functional: Performance Beach Shirts
Technical performance fabrics are becoming essential for beach wear. They use moisture-wicking, quick-drying, and UV-protective technologies to keep you comfortable in the heat.
Look for shirts made from advanced synthetics like nylon, polyester, coolmax, spandex, and Dri-FIT. Features like mesh panels, zippered pockets, and rolled-up sleeves enhance breathability, storage, and versatility.
Performance beach shirts tackle elements and activities while flattering your style. Wear them for beach volleyball, lounging after a swim, or hiking coastal trails in comfort and sun protection.
Casual Waffle Shirt Holiday Set
Choosing the Perfect Fit and Size
After exploring different beach shirt styles, finding the right fit and size that allows maximum comfort and range of motion for your activities is important. While trends point to more relaxed silhouettes, choose a size based on your needs and preferences.
For T-shirts:
Aim for a classic Medium-Large fit that is loose but not baggy. This allows air circulation while avoiding clinging fabric.
Consider a Slightly Oversized fit if you prefer an even roomier coverage. This is most breathable but can sacrifice some tailoring.
For Button-ups:
A Traditional fit hugs your body without being tight. It tends to be the most versatile, for casual and formal occasions.
An Athletic fit is slightly more relaxed through the body with ample sleeve room. This offers slightly more comfort while maintaining structure.
An Oversized fit has a baggier, un-tucked silhouette that is very casual. It works best for a laid-back beach day.
When in Doubt, Size Up:
Remember, beach shirts are meant for maximum comfort. So, when in doubt, size up rather than down. This allows for the following:
More room for swelling or bloating after meals and drinks
Less restriction when lifting your arms or stretching
Space for any layers you plan to wear underneath
Shirt longevity accommodates weight and size fluctuations over time.
You maximize comfort and longevity by choosing a beach shirt slightly bigger than your usual size. The right fit allows you to fully embrace the ease and leisure of the beach lifestyle.
In conclusion, when choosing the right fit and size for men's beach shirts, aim for a balance of comfort, range of motion, and style. While trends point to more relaxed silhouettes, choose a fit based on your needs and planned activities.
Men's Beach Shirts & Flower Hawaiian Shirt
Read More
---