How to Incorporate Cotton Linen Clothing into A Man's Work Wardrobe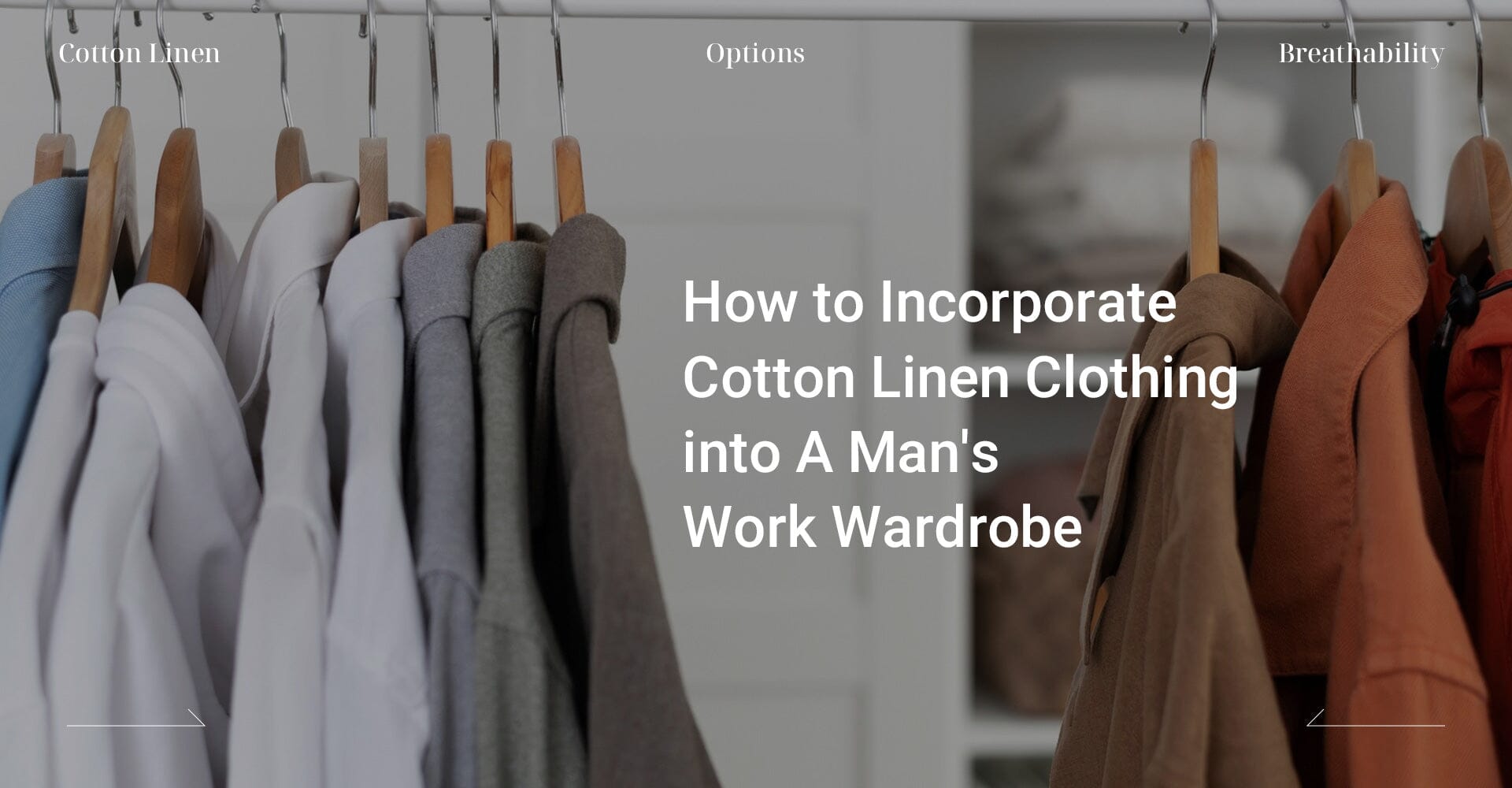 Navigation
The standard suit and tie were not designed with comfort in mind. Synthetic fabrics trap heat and moisture, leaving most men sweltering in the summer months. Tightly tailored suits and stiff button-down shirts also constrain the body, reducing mobility and breathability.
Choosing cotton linen for work attire remedies the discomforts of typical office wear. Cotton linen fabrics are made of pure breathability, wicking away sweat and circulating air to prevent overheating. They drape loosely over the body instead of constricting it, balancing polish with unrivaled freedom of movement. Perhaps most importantly, cotton linen sets the body free from uniformity, allowing unique self-expression in a sea of sameness.
This blog post guides how to escape the grip of stiff suits and stuffy shares, exploring cotton linen options purposefully crafted for comfort. By appreciating the liberating benefits of cotton linen and following our recommendations, you can incorporate comfort and individuality into your work attire. Cotton linen clothing will transform a uniform work experience into one of self-expression and joy. Now, read on to discover how cotton linen can make office attire an expression of personal style rather than undesirable uniformity.
Choosing the Right Cotton Linen Clothing for Work
A well-tailored cotton linen wardrobe will definitely rescue you from the grip of stiff suits and stuffy ties. Cotton linen suits, sport coats, blazers, shirts, polo shirts, button-downs and trousers set the body free while elevating professional polish. When selecting cotton linen clothing for work, consider how each piece will revolutionize your daily uniform.
Fit: Cotton linen suits a range of fits from slim to loose, but focuses on structured, polished silhouettes ideal for the workplace. Linen suits and blazers should drape gracefully over the body instead of clinging, contouring without constriction. Shirts should skim lightly over the torso, retaining shape through caress instead of constraint. Trousers should grasp the waist with guidance rather than force, comfor tably telegraphing your form rather than masking it. A polished, sculpted fit that sculpts without sacrifice is key.
Quality: Look for cotton linen garments crafted from high-quality, durable fabrics with breathing room to spare. Higher thread count cotton linens resist wrinkling and last longer, embracing wrinkles as a natural expression of use instead of hindrance. Natural, unprocessed cotton linens also maintain more breathability and pliability, softly flexing with each movement rather than hindering it. Premium cotton linen clothing is an investment in revolution.
Color: In the workplace, consider how colors can set the tone for radical self-expression. Solid whites, creams, light blues and grays are always appropriate, but far from uniform. You can check Coofandy's official website for more color references: COOFANDY Cotton Linen Outfits | Men's Casual Linen Shirts, Linen Pants - coofandy. Small circular prints or isolated dots in coordinating hues also work well for work, imparting subtle pattern rather than busyness. Bright colors have their place, but for work wardrobes, restraint and subtlety are keys to crafting a polished yet revolutionary style.
How to Incorporate Cotton Linen Clothing into A Professional Wardrobe?
When incorporating cotton linen into your professional wardrobe, choose versatile and polished pieces in muted, minimalist shades. Cotton linen suits, separates, blazers, shirts, and pants in solid colors, dots, microflorals or subtle prints achieve sophistication through simplicity. Ensure cotton linen pieces fit properly with a polished, tailored silhouette instead of an overly casual drape. Here we have prepared some examples of how to incorporate cotton linen clothing into a professional wardrobe:
Cotton linen suit: A lightweight cotton linen suit in cream, navy or charcoal grey makes a polished summer statement. Pair it with oxfords or loafers for work. You may take a look at Coofandy's selection here: Cozy Solid Cotton and Linen Shirt Set - coofandy
Cotton linen blazer: A cotton linen blazer in ecru, ivory or light green looks professional over cotton button-downs, polos or cotton linen shirts. It keeps you cool in warm weather. For blazer ideas please check Coofandy's link here: Casual Solid Cotton Linen Blazer - coofandy
Cotton linen trousers: Comfortable cotton linen trousers in khaki, sand or light grey are perfect for work. Wear these cotton linen pants with cotton linen shirts or cotton oxford shirts to have a business causal style when it is a dress-down Friday.
Cotton linen button-down: A casual cotton linen button-down shirt works for the office, especially in muted solid colors or small prints. Pair it with linen trousers, cotton chinos or a linen blazer.
Cotton linen Polo shirt: Breathable cotton linen polo shirts in off-white, light blue or navy make for a relaxed yet polished work top. Wear them alone or layer under a cotton linen blazer.
Cotton linen vest: A cotton linen vest in ivory, tan or navy adds style and breathability over work shirts without overly compromising professional polish. The cotton linen vest helps regulate temperature during longer workdays or in over air conditioned offices.
What are Some Common Mistakes to Avoid When Styling Cotton Linen for Business Casual?
Although cotton linen clothing is a good option for men's professional wardrobe, mismatch or wrong choices of overly casual or rumpled pieces may lead to a less professional look. Here are some common mistakes to avoid when styling linen for business casual:
Wearing cotton linen suits that are too casual. Cotton linen suit separates that are too loose, rumpled or boldly patterned will look sloppy instead of stylish. Choose subtly tailored separates in solid colors, pinstripes, dots or microflorals.
Not tucking in shirts. For business casual, tuck in shirts to create a polished silhouette. Untucked cotton linen tops will look unkempt rather than breezy.
Bright colors. Neon colors, bright primaries and pastels that are too bright will look unprofessional on linen pieces. Stick to creams, ivories, khakis, navies, grays, and muted pinks and blues. Small doses of bolder colors through prints or accessories are suitable but solid bright colors should be avoided.
Visible stains, pilling, holes or damage. Make sure any linen garments are cleaned and in good&undamaged condition before wearing them to work. Visible marks of wear or damage will make the ensemble look unkempt, unprofessional and sloppy.
Conclusion
With high-quality, minimalist cotton linen pieces in polished silhouettes, an ironed and put-together aesthetic and avoidable mistakes in mind, you'll achieve a stylish yet professional cotton linen wardrobe. Each cotton linen ensemble can be dressed up or down as needed using details like ties, blazers, or pockets squares.
Read More
---