Men's Shirt Style Guide: Breaking Down Different Shirt Styles and How to Wear Them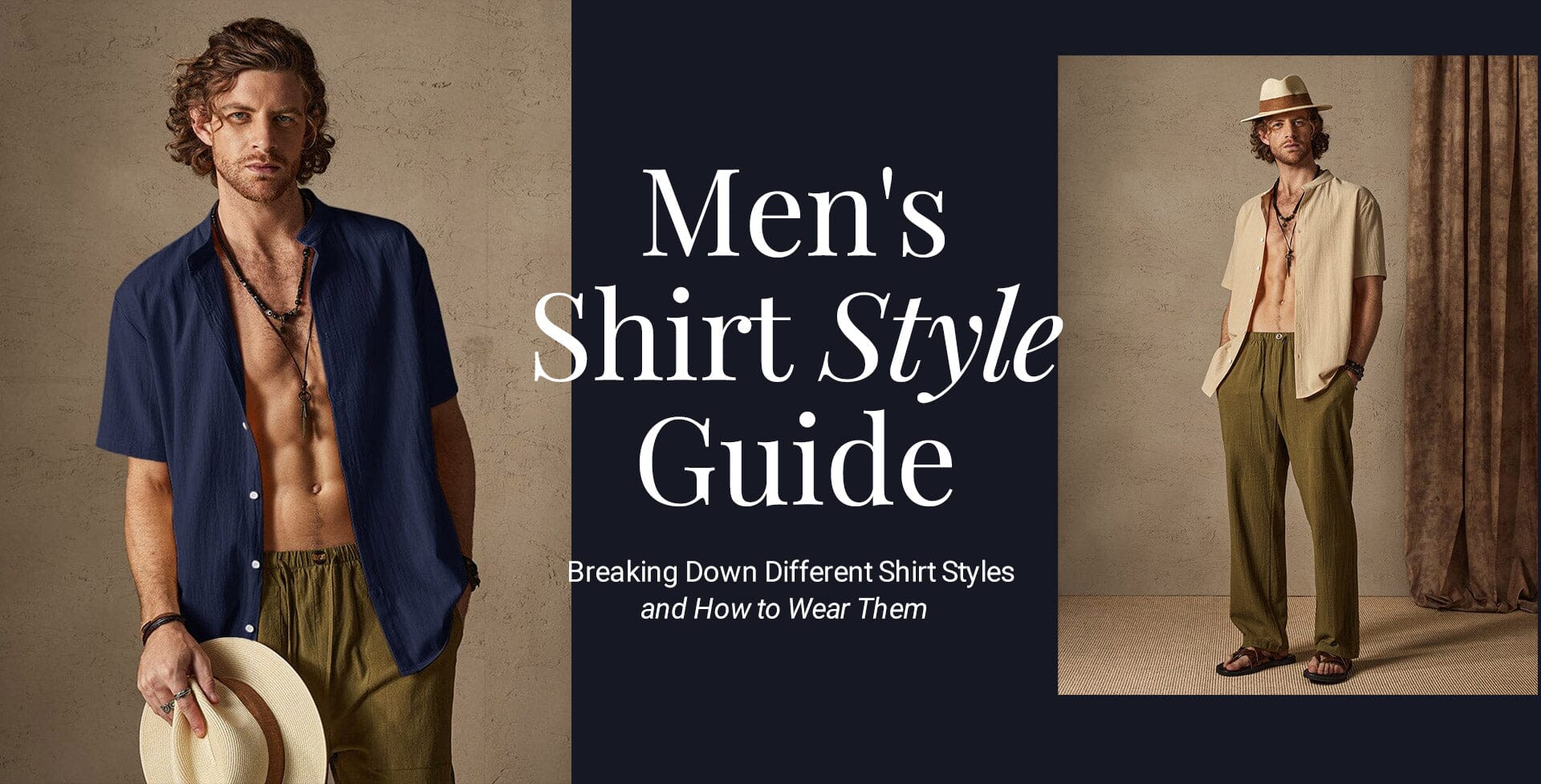 Navigation
A man's wardrobe is not complete without a solid selection of shirts. From dress shirts to casual button-downs, polos, flannels, and tees, the right shirts can take your outfits to the next level. The key is understanding the differences between shirt styles and knowing how to wear each type. This guide breaks down the most popular men's shirt styles and gives tips for looking sharp.
01.Dress Shirts
A dress shirt is a tailored shirt meant to be worn formally with suits or sport coats. The right dress shirt can pull together a polished look for work and special occasions. Here's what to know:
Collar Styles
Dress shirt collars come in different shapes including point collars, spread collars, cutaway collars, and more. Point collars are versatile with angled collar points. Spread collars have wider space between the points for a contemporary look. Cutaway collars have angled corners great for pairing with wider tie knots.
Fabrics
Popular dress shirt fabrics include poplin, oxford cloth, broadcloth, and twill. Poplin is a lightweight, smooth cotton or cotton-blend fabric that's comfortable to wear. Oxford cloth is a thicker, basketweave fabric that comes in casual button-down shirts too. Broadcloth is a finely woven silk or polyester fabric that makes a dressier shirt.
Fits and Cuts
Dress shirts come in slim, modern/regular, and relaxed/full cuts. Slim fits contour the body for a tailored look. Regular fits sit in between slim and relaxed. Relaxed shirts offer roomy comfort. Getting the right fit means neatly fitting through the shoulders, chest, and sleeves without pulling.
How to Wear?
Tuck dress shirts into suit pants or chinos. Wear with a coordinated jacket, tie, and dress shoes for a polished, professional ensemble. Solid shirts offer versatility to pair with patterns and colors. White and light blue are dress shirt staples.
Proper Tailoring
Visit a tailor to adjust any oversized dress shirts for a custom, flattering fit. Common adjustments include slimming sleeves, taking in the sides, and hemming long shirt-tails. An ideal dress shirt fit will neatly contour your torso without straining buttons.
02.Casual Button Down Shirts
The button-down shirt delivers a laidback elegance perfect for casual Fridays or weekend wear. Details like:
Collar and Hem
The button-down collar fastens to the shirt, allowing you to wear the collar up or down. Rounded shirt hems are meant to be worn untucked.
Fabrics
Casual cotton fabrics include oxford cloth, flannel, chambray, linen, seersucker, and poplin. Oxford cloth is durable, substantial, and slightly lustrous. Flannel offers soft, warm comfort. Chambray is lightweight like denim. Linen has a breezy weave.
Patterns and Colors
While white or light blue button-downs look crisp, bolder stripes, checks, and plaids in shades like pink, mint, lavender, or navy make versatile statement pieces.
How to Wear?
Pair button-downs with jeans, chinos, or shorts. Tuck or untuck the shirt tails depending on your look. Roll up sleeves and leave the top buttons undone for a relaxed vibe. Throw on a blazer to dress it up.
03.Polo Shirts
The polo shirt is an athletic inspired top meant for casual wear. Signature features include:
History
Polo shirts originated as uniforms for polo athletes in the late 19th century. The tennis champion René Lacoste popularized polos in the 1920s with his innovative woven cotton piqué polo.
Style
Polos have a ribbed collar and 2-3 button placket. They have short sleeves though long sleeve options exist too. Traditional polos don't have a breast pocket.
Vintage Stripe Short Sleeve Knitted Polo Shirt (US Only)
Fabrics
Polos today come in piqué cotton, soft jersey knit, breathable mesh, and performance fabrics like moisture-wicking polyester.
When to Wear
Polos work well for active occasions like golf, tennis, summer barbecues, or casual Fridays at the office. They pair nicely with shorts, khakis, or jeans.
How to Style
Choose polos in bright colors and fun patterns to liven up a casual look. Layer under a blazer or sweater for an elevated twist. A polo untucked with shorts and sneakers makes a relaxed, sporty style.
04.Flannel Shirts
When the weather turns cool, reach for a flannel shirt. Details include:
Fabrics
Flannel shirts come in soft cotton flannel that's brushed for softness or wool flannel that offers warmth.
Patterns
Buffalo checks, tartan plaids, and classic lumberjack styles are flannel shirt staples. They have an outdoorsy, rustic vibe.
How to Wear?
Wear flannel shirts open over a tee or henley, letting the collar lay flat. Button up and layer under a sweater or denim jacket when it's chilly. Roll up the sleeves for a casual look. Flannel makes a cozy pajama top too.
Cotton Style Plaid Pattern Long-Sleeved Flannelette Shirt
05.T-Shirts
No men's top drawer is complete without a stack of t-shirts in multiple styles.
Necklines
Crew neck tees are versatile classics. V-necks elongate the neck. Scoop necks show off chest muscle. Tank tops highlight the arms.
Fabrics
Look for soft, lightweight cotton tees as well as moisture-wicking polyester and stretchy jersey knits for workouts.
How to Wear
Wear alone or layer under an open shirt. Replace worn out shirts to avoid saggy, enlarged necklines and hems. Fitted tees flatter the physique.
06.Conclusion
Dress shirts to casual polos, button-downs, flannels, and tees all belong in a well-rounded men's wardrobe. Know when to wear each style and how to care for the fabrics. Focus on fit and quality construction. With the right shirts, you'll always look stylish and put together.
Read More
---