What to Wear to Celebrate the 4th of July in 2023?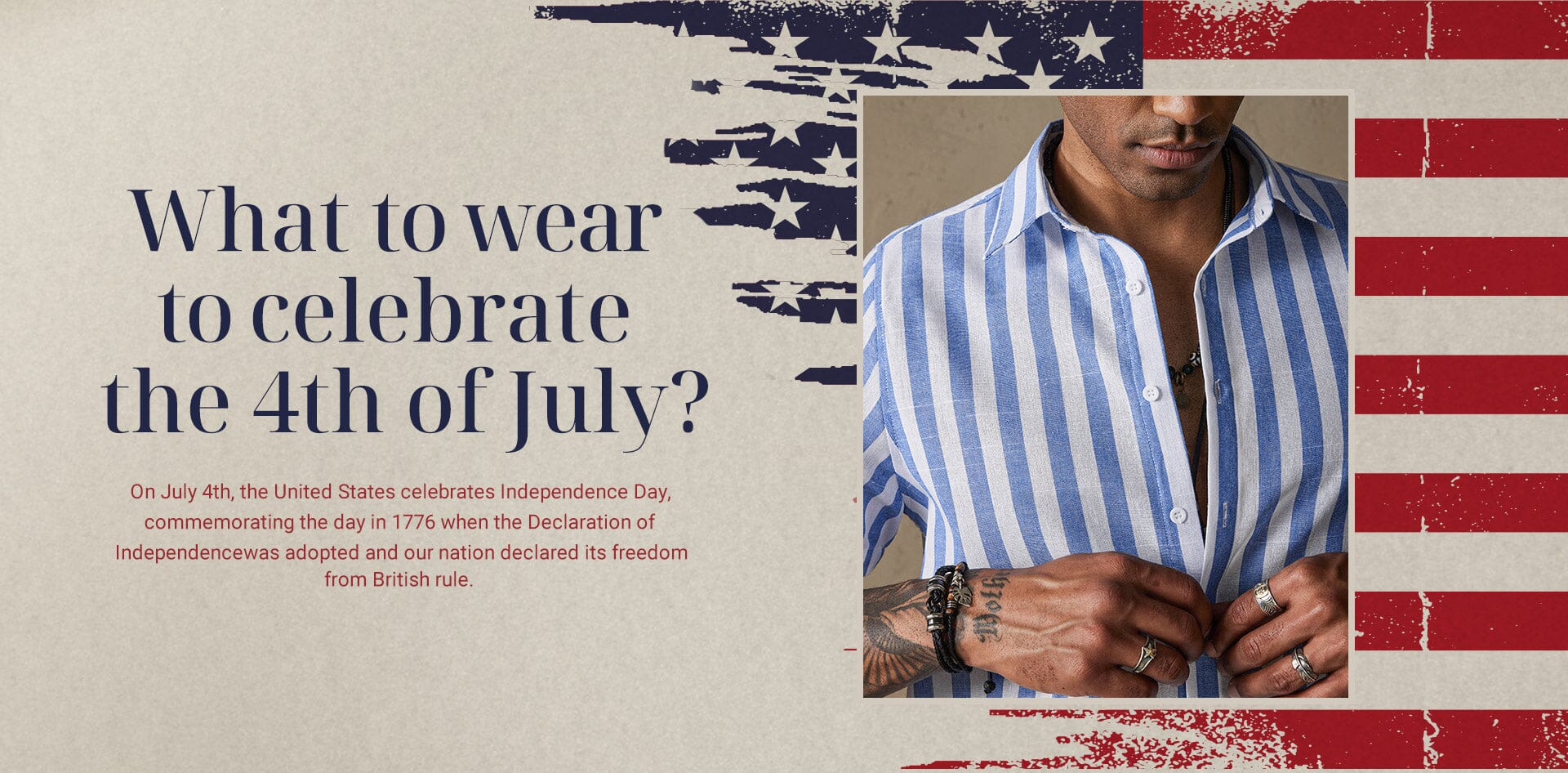 On July 4th, the United States celebrates
Independence Day
, commemorating the day in 1776 when the Declaration of Independencewas adopted and our nation declared its freedom from British rule. The 4th of July is a day of parades, fireworks, patriotic displays, and time spent with family and friends across the country.
While many Americans celebrate the holiday with vibrant festivities, some may be curious about the traditional ways to celebrate the 4th of July. In this blog post, we'll explore some of the most common and iconic 4th of July activities enjoyed by millions across the U.S. each year.
The History and Celebration
The 4th of July commemorates the adoption of the Declaration of Independence on July 4, 1776. On this day, the 13 American colonies declared their independence from British rule and became the United States of America.
In terms of celebration, people will usually gather to wathc dazzling firwork displays put on by cities. Grilling outdoors and sharing meals with loved ones is a classic 4th of July activity. People cook hamburgers and hot dogs, and enjoy patriotic foods like watermelon and potato salad.
The Dress Code for the Independence Day: Blue, White, and Red, and More
Red, white and blue are the colors of choice for Independence Day. These three colors incorporate the colors of the American flag into your outfit.Wear shirts, dresses, skirts, shorts or pants in these patriotic hues or with star and stripe patterns. Patriotic-themed accessories like star-spangled hats, scarves, shoes, jewelry and bags add festive flair to any outfit. Add flag pins, bandannas, sunglasses with American flag frames and brightly colored sneakers.
Stylish National Flag Elements Tank Top
Meanwhile, T-shirts, polo shirts and tank tops with Americana themes like bald eagles, Uncle Sam, stars and stripes and historical symbols are popular 4th of July apparel. Vintage band shirts featuring rock versions of the "Star Spangled Banner" also work well.
For the mean time, you can also go for classic stripes. Striped tops in red and white or red/white/blue are patriotic yet versatile choices. Aim for narrower, more refined stripes for a polished look.
Linen shirt or linen sets in blue or white are perfect for celebrating on a warm summer day. The breathable material ensures comfort.
Cotton Linen Casual Striped Shirt
Wearing the right statement accessories is also a way to show our patriotism besides clothing. Big patriotic rings, necklaces, and layered bead bracelets in red, white and blue will up the festive factor of your ensemble.
With these fashion tips in mind, you'll be ready to embrace the red, white and blue this Independence Day in a stylish yet meaningful way! Let me know if you have any other questions.
While following flag etiquette is respectful, absolute adherence is not required for patriotic Independence Day wear. Spirit and celebration are key!
Take-aways
At last, if you are running out of idea about what to wear on the 4th of July, no worries, here at Coofandy we have already composed a list of Idenpendence day esseantials! You can simply click the link below and check if there is anything matching you.
Casual Graphic Printed T-Shirt
Flag Pattern Independence Day T-Shirt
Casual Independence Day Polo Shirt
Casual Graphic Cotton Tracksuit Sets
Read More
---