The Classic Linen Shirt - Everything You Need to Know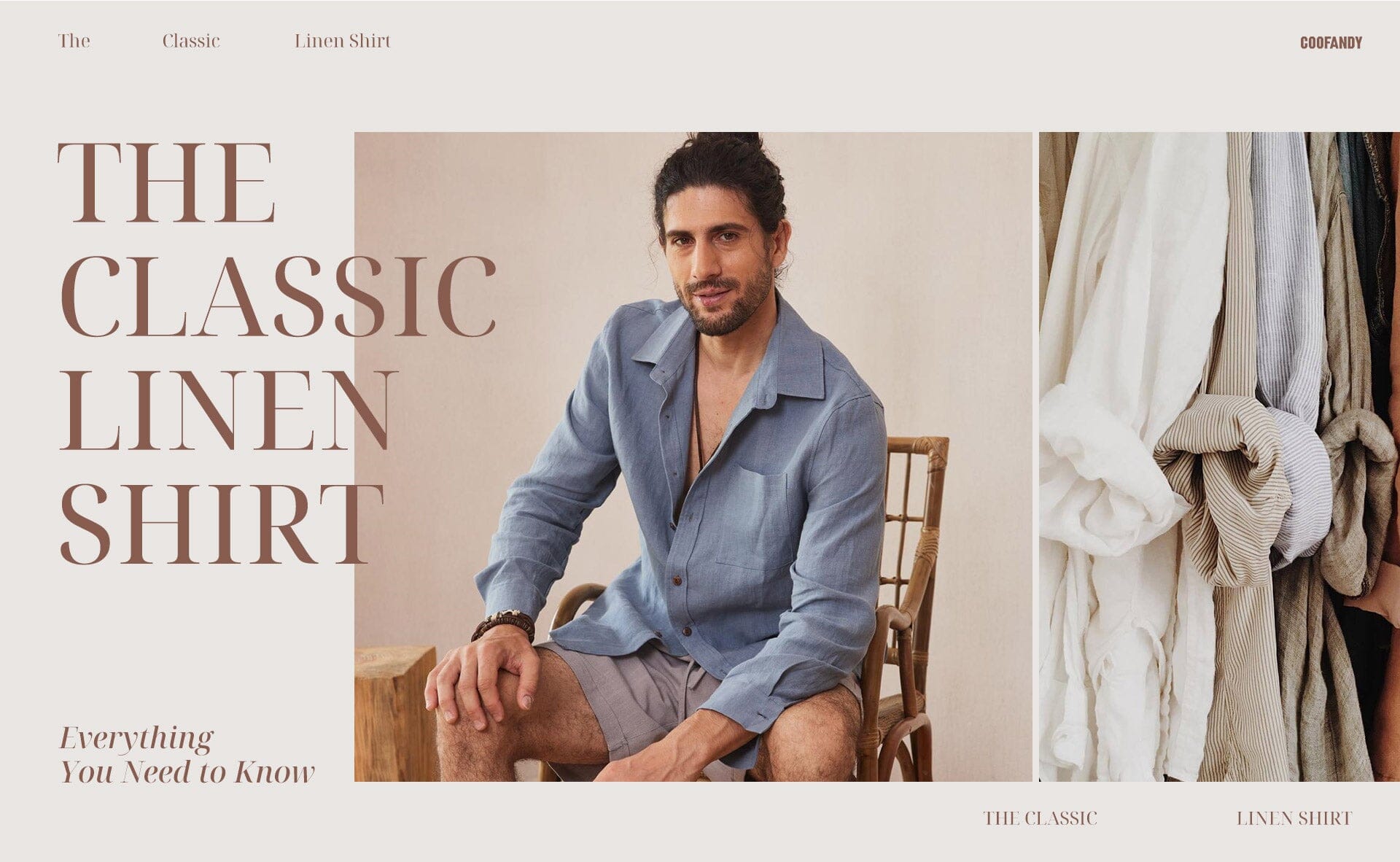 Navigation
The linen shirt is a wardrobe staple steeped in history and tradition. Unlike cotton, linen fabric traces back to ancient Egypt and the flax plant, prized for its breathability and durability. Linen shirts became symbols of luxury and status as early 20th century elites donned them for tropical getaways. Today, the classic linen shirt still embodies easy warm weather style, from casual weekends to dressed up occasions. When crafted from quality natural fibers with attention to detail, a linen shirt only gets better with age. This guide will cover everything you need to know about the history, properties, care and styling of the classic linen shirt.
What Makes Linen Special?
Linen fabric boasts a number of natural properties that make it ideal for warm weather dressing. Made from the fibers of the flax plant, linen has a signature sheen and subtle slubbed texture that cotton lacks. It also absorbs moisture and allows airflow against the skin thanks to its lightweight feel. This breathability keeps wearers cool and comfortable.
Pure linen excels at moisture-wicking. However, cotton-linen blends can also make excellent warm weather shirts, as the cotton lends durability and structure while the linen offers cooling comfort. A cotton and linen blend creates a great shirt for high sweat environments.
The highest quality pure linens come from European mills in Italy, Belgium and Switzerland. These feature details like mother-of-pearl buttons, side gussets and fine stitching for luxury. Expect to invest $100-$200 for the finest linen shirts, but know they'll last for many summers to come. For most, a linen cotton blend provides a good value combination of the two fabrics' strengths.
Buying Quality Linen Shirts
When shopping for linen shirts, 100% linen or linen-cotton blends are both excellent options. Pure linen will wrinkle but resists pilling for durability over time. Blends incorporate cotton for added softness and structural integrity. For pure linen, look for lightweight 3.5-4 oz fabrics.
If you want to enjoy a comfortable, relaxed feeling in linen shirts, it's best to order a size up to accommodate linen's natural stretch and give.Properly fitted linen prevents excess fabric that can look sloppy untucked. Well-made linen shirts should feature neatly sewn buttons, reinforced seams and subtle stitching regardless of exact fabric content.
Moderately priced linen shirts around $25-50 make the fabric accessible for most budgets. Higher priced luxury linen shirts with details like mother-of-pearl buttons hold up for many years but are not essential to experience linen's benefits. Focus on quality construction and natural fabrics over cost when evaluating shirts.
With some care to minimize wrinkling, both pure linen and linen-cotton blended shirts bring versatile comfort and easy elegance perfect for warm weather and layering. Most men can find quality options at a comfortable price point to incorporate this classic into their wardrobes.
Wearing Linen Shirts
A high quality linen shirt offers versatile styling potential. It can be the finishing touch for dressed up looks with tailored trousers and blazers or worn casually open over tees and shorts. For a relaxed vibe, roll up the sleeves and leave the shirt untucked.
Certain classic colors pair easily with multiple outfits. Light blue linen works for both the office and off-duty days. Add white jeans on weekends or navy trousers for workdays. Crisp white linen creates an effortlessly sharp look with anything from khakis to colorful shorts.
Lastly, linen layers beautifully under unstructured blazers, knit sweaters and cardigans. Contrast the texture against cotton, cashmere and lightweight wool for depth. A linen shirt serves as the perfect transitional piece for warmer weather dressing.
Caring for Linen Shirts
Linen requires delicate care to maintain its crisp look. Always wash linen shirts in cold water on a gentle cycle. Use minimal detergent, as excess soap can diminish linen's natural sheen. Vinegar can help set dyes in colored linen. For white shirts, add baking soda periodically to maintain brightness.
Line or flat dry linen shirts out of direct sunlight. Hang drying on quality wooden or padded hangers works well. Laying flat helps linen keep its shape. To smooth wrinkles, gently iron on low heat while slightly damp, taking care not to scorch the fabric.
For stains, tackle immediately by handwashing in cool water and dabbing with a stain remover safe for linen. Store linen shirts folded in breathable cotton garment bags, not plastic, during the off-season. With proper care, linen looks better over time.
With its breathable comfort and understated luxury, a well-made linen shirt is a wardrobe staple worth investing in.
Read More
---