5 Best White Linen Shirt to Style Up This Summer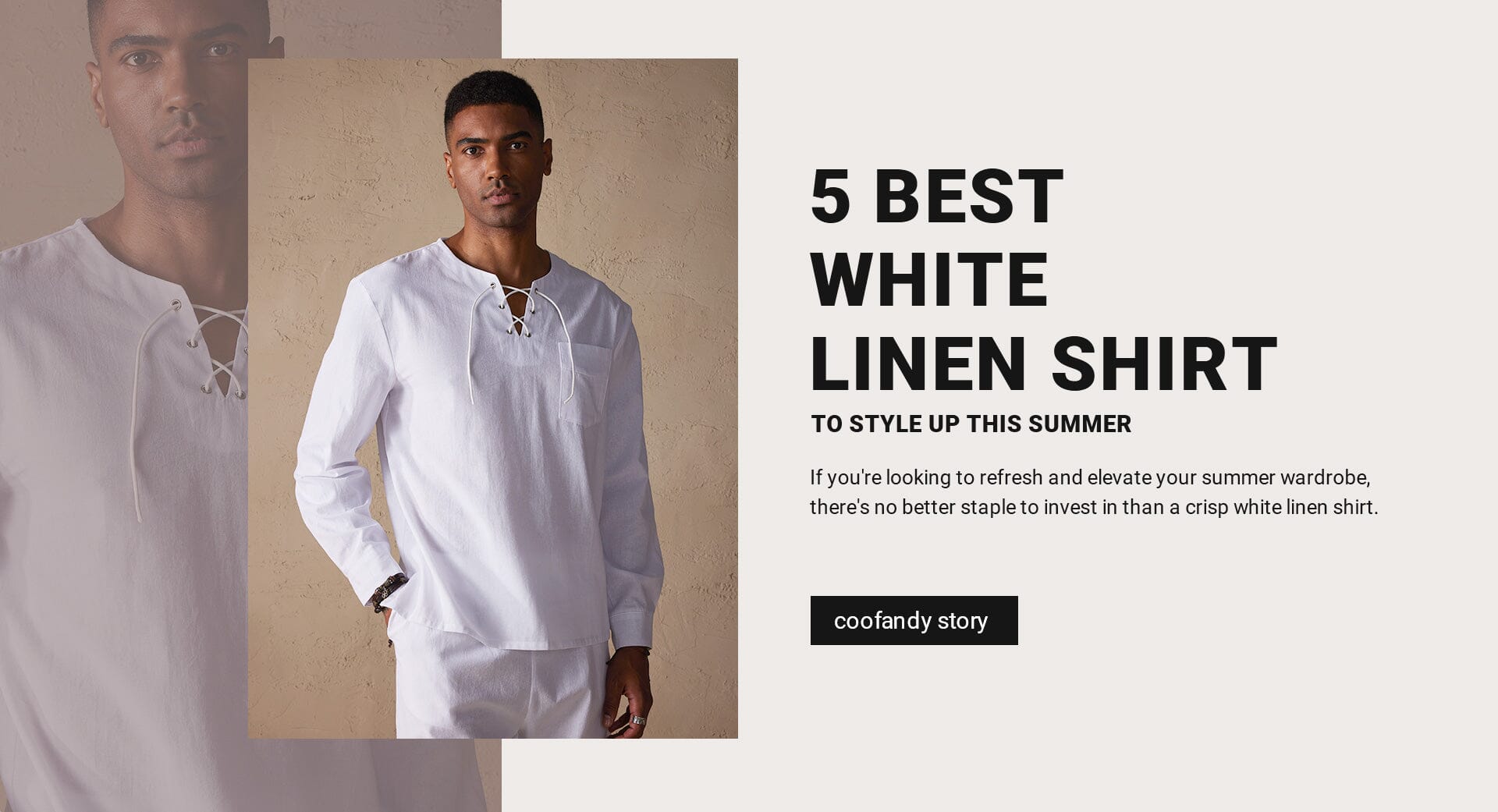 Navigation
If you're looking to refresh and elevate your summer wardrobe, there's no better staple to invest in than a crisp white linen shirt. As warm weather essentials go, a white linen shirt checks all the boxes. It's lightweight and breathable, stylish yet comfortable enough for everyday wear and pairs perfectly with everything from jeans and chinos to suits and swim trunks. This season, say goodbye to boring basics and make a plain white linen shirt the versatile workhorse of your summer style. From casual button-ups and loose fits to tailored cuts and collarless designs, we've rounded up the 5 best white linen shirts to help you keep it classic and cool all summer long.
1. The Henley Style White Linen Shirt
Cotton Linen Style Henley Shirt (US Only)
The style of the henley has a vintage inspired look that never goes out of fashion. It's a timeless piece for every man's summer wardrobe. That is why it becomes our No.1 choice. The henley style with three quarter sleeves and button front placket has a casual but stylish vibe that works for many occasions from weekends to errands. A henley shirt goes well with linen or chino shorts, jeans, sneakers and sandals. It pairs perfectly with the rest of your warm weather wardrobe.
2. The Cotton Linen Long Sleeve Solid Shirt
Cotton Linen Long Sleeve Solid Shirt
Even in simple solid colors, the point collar, double button cuffs and button closure details give this shirt a a touch of refined elegance. It accentuates a man's natural style.
Meanwhile, a long sleeve shirt with button closure is very practical and fashionable for men because it allows you to switch between different styles easily:
Buttoned up formally, it is suitable for business occasions while unbuttoned casually, it shows personality and is relaxed. With sleeves rolled up or down, it transforms into two different styles - one tailored and the other effortless yet distinctive. The same shirt lets you switch between formal, casual and comfortable styles as you wish.
3. The White Casual Loose Fit Lightweight Cotton Linen Shirt 
Casual Loose Fit Lightweight Cotton Linen Shirt
A casual loose fit cotton linen shirt is the epitome of warm weather style for men. The relaxed silhouette provides an effortlessly cool vibe that works for all occasions from weekends to errands. The dropped shoulder seams, slightly oversized cut and spacious arms allow air to circulate, keeping you from overheating on hot days. The loose fit updates a classic button up with a contemporary twist that elevated your everyday summer outfits.
4. The White Casual Cotton Linen Lace Up Shirt
Casual Cotton Linen Lace Up Shirt Set (US Only)
With the shirt loosely tied but still intact, it creates a casually stylish yet put together look that is perfect for warm weather weekends. The simple white color and drawstring detailing adds visual interest while maintaining an understated aesthetic. The shirt we are recommending here comes as a set, so you don't need to worry abot which pants to choose to match with this lace up style shirt.
5.The White Casual Cotton and Linen Shirt 
Casual Cotton and Linen Shirt Set
A simple white linen long sleeve shirt instantly elevates even the most basic outfits, imbuing them with a touch of effortless sophistication.When you're unsure what to wear, a neutral-colored linen long sleeve shirt in navy, white or light blue is always a safe, stylish choice that works with your other clothes. The one we recommend to you also comes as a set, whith a pair of matching pants, which could give you an effortless chic.
Tips to Style up Your Linen Shirt 
What can you wear a white linen shirt with? The most important thing when styling up your linen shirts is to find ones that fit you well and make you feel comfortable. Linen shirts for men work best in a classic, tailored fit that is slightly slim without being tight. Avoid overly boxy or baggy linen shirts. From there, styling is easy and based on your personal style.
A casual yet classic way to style your linen shirt is to roll up the sleeves. Opt for a tight, single fold for a more polished look. You can also layer your linen shirt under sweater vests, knit pullovers or even lightweight coats and blazers for a preppy, casual-yet-put-together outfit. Tucking your linen shirt into chinos, jeans or shorts creates a timeless, crisp look while the breathable linen keeps you comfortable.
Focus on fit and comfort over excessive details when styling your linen shirt. Keep the details simple with crisp collars and chest pockets. Accessorize minimally with simple wristwatches, leather belts and loafers or sneakers so that the white linen shirt remains the focal point. Experimenting with different collar styles like V-necks, button-downs and spread collars can also help elevate a basic linen shirt based on your aesthetic preferences.
Overall, linen is a versatile and breathable fabric that allows for creativity when styling - so find well-fitting shirts that make you comfortable and have fun experimenting with different styling techniques based on your personal style.
Can you wash a white linen shirt?
Yes, a white linen shirt can be washed. However, you should always check the care label on the shirt before washing it to make sure that it is safe to do so. Linen is a delicate fabric, so it's best to wash it by hand or on a gentle cycle in your washing machine with lukewarm or cold water. Hot water can cause linen to shrink or lose its shape. Use a mild detergent that is suitable for delicate fabrics, and avoid using bleach or fabric softener. It's also important to avoid wringing or twisting the linen shirt as this can damage the fibers. Instead, gently shake out any excess water and then lay the shirt flat to air dry. Avoid drying the shirt in direct sunlight or using a dryer as this can cause the fabric to shrink or become damaged. Additionally, it's a good idea to iron or steam the shirt while it's still slightly damp to help it maintain its shape and prevent wrinkles.
Read More
---