Knitted Shirts for Men: Comfortable and Stylish Wardrobe Essentials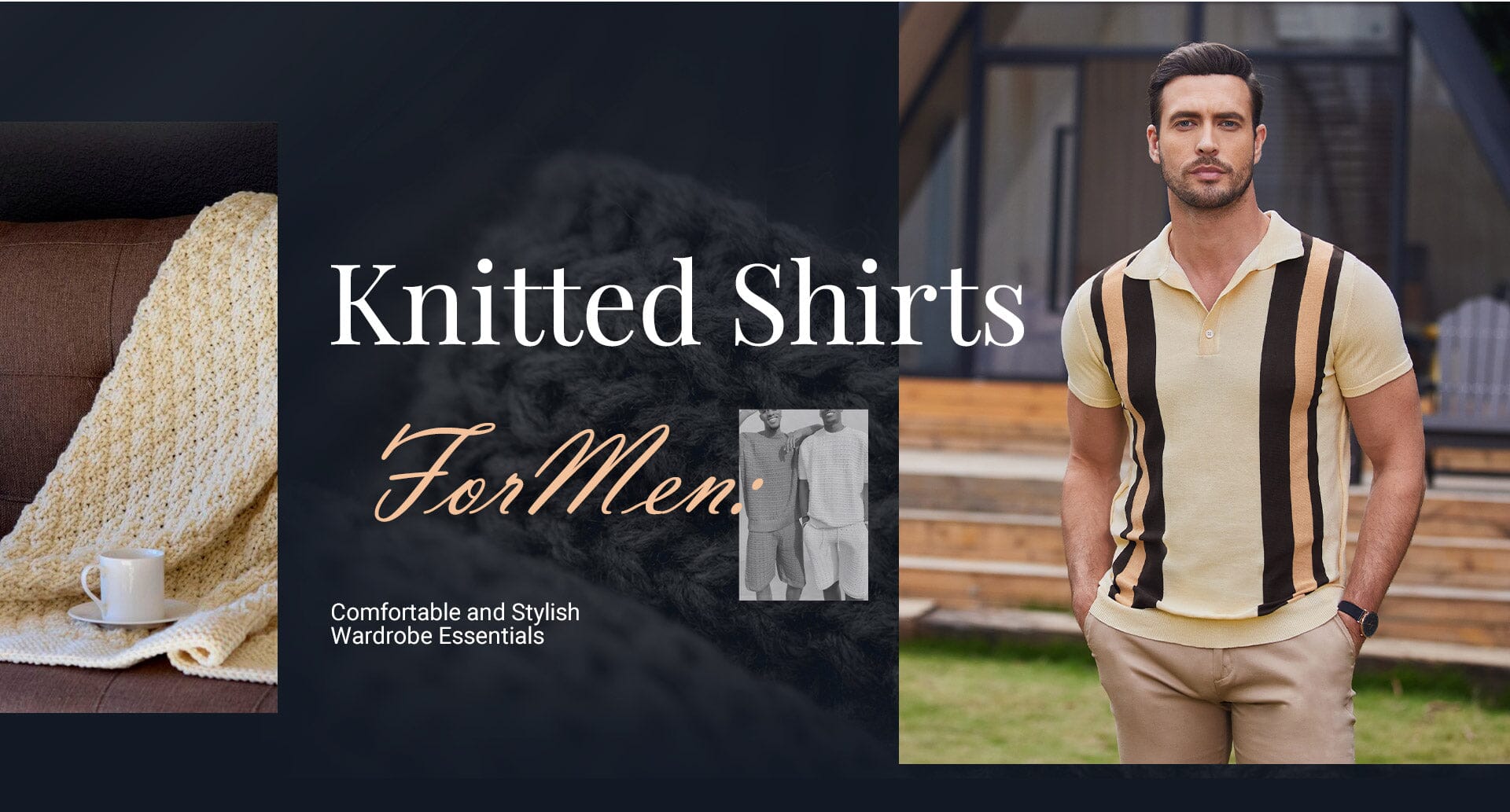 Navigation
Knitted shirts are the perfect balance of comfort, style, and versatility for any man's wardrobe. Offering the softness of a sweater, knits for men marry functionality and fashion seamlessly. Whether you prefer breton stripes, argyle patterns, or plainer heather tones, a well-fitting knitted shirt can definitely elevate your style while keeping you cozy and unrestricted in your movements. From the boardroom to the weekend, knits for man provide a laid-back attitude with sophistication, making them comfortable and stylish wardrobe essentials that every man should have in his collection. If you want to know more about the trending knitted shirts, explore more in this blog!
>> The Comfort of Knitted Shirts
The soft, breathable fabric of knitted shirts is what makes the knitted shirts so comfortable to wear all day. Knits are typically made from viscose, cotton, polyester or a blend of these materials. The key characteristics that provide the comfort are:
Lightweight - Knitted fabric is inherently lightweight and airy. There are no heavy layers or stiff material that can restrict movement or trap heat. This lightweight nature feels comfortable against the skin.
Flexible - Because knits are made up of interlocking loops rather than woven threads, the fabric can stretch and move easily with your body. There is no "breaking in" period with knitted shirts - they conform to your movements from day one.
Breathable - The open knit structure allows air to flow freely, keeping you cool even during activity. Sweat can evaporate easily, preventing you from feeling damp or clammy.
Soft - Knitted fabric has a cozy, laid-back feel that customers describe as "like wearing your favorite sweater." The loose weave molds to the shape of your body rather than forcing you into a rigid form.
Among a variety of knitted shirts available on Coofandy's website, we have selected below signature collection for you as our top recommendation:
>> Breathable Loose Fit Knit Sets
Breathable Loose Fit Knit Sets
This lightweight and breathable V-neck knit shirt from Coofandy is made of 65% cotton and 35% polyester, offering a soft and comfortable wearing experience. Featuring a loose and relaxed fit, deep V-neckline and short sleeves, this versatile shirt can be paired easily with jeans or pants for a casual everyday look. It is also ideal for lounging, sports or gym wear given its breathable and moisture-wicking properties. Extremely easy to care for, this knit shirt is machine washable. As it comes with a matching pair of knitted pants(one option is the long pants, the other are the short pants), you can choose to wear them together as a lounge set or separately with your own options to create different looks.
>> Casual Breathable Knit Tank Top
Casual Breathable Knit Tank Top Set
This casual knit tank top set from Coofandy is crafted from a soft and breathable blend of 65% cotton and 35% polyester. The lightweight and flowy fabric provides maximum comfort while keeping you cool during warm days. Featuring a regular fit and open round neckline, the sleeveless tank tops have a slightly loose and relaxed cut that flatters most body types. The ripped edges along the armholes and hem add a touch of stylish accent to the simple design. Showing a hint of skin around the shoulders and collarbone area, these tank tops strike a perfect balance between comfort and sexiness. This casual and lightweight tank top set is perfect for creating a stylish off-duty look this season.
>> What occasions are appropriate to wear knitted shirts?
Knitted shirts utilize comfort, style, fit and craftsmanship to trigger feelings of ease, confidence, focus, nostalgia and value for those who wear them. The soft yet sophisticated nature of knits allows people to feel both relaxed and put-together, achieving a harmonic balance that enhances their mood and wellbeing. That is why knitted shirts are perfect for weekends and other chilled occasions:
Weekend errands - Running errands on the weekend? A knit shirt set is stylish yet low-effort, making it perfect for quick trips to the store.
Casual dining - Heading to a brunch place or casual restaurant for lunch or dinner? A knitted shirt paired with chinos or jeans is a nice option that is comfortable but still looks put-together.
Traveling - Knits are great for traveling due to their soft comfortable material and relaxed fit. They are easy to pack and wrinkle-resistant.
Gardening or yardwork - Knitted shirts are breathable, comfortable, and loose enough for activities like gardening or yardwork. The stretchy material moves easily with your body.
Hanging out with friends - A casual option for catching up with friends over coffee or drinks, knitted shirts achieve an effortless cool vibe that is perfect for laid-back socializing.
>> Care Instructions for washing and drying knitted shirts
Properly washing and drying your knitted shirts is important to maintain their comfort and longevity. Here are some specific care instructions to follow when washing and drying knitted shirts to help maintain their fit, softness and longevity:
Wash in cold water - Always wash knits on the delicate or cold water cycle. Warm or hot water can cause the fibers to contract and the garment to shrink. Cold water is gentler and less damaging.
Use a garment bag - For tops and bottoms with ribbing or loose knits, use a mesh garment bag to prevent tangling and snagging during the wash. This will help preserve the shape of the garment.
Air dry - Avoid machine drying knitted shirts since the dryer tumbling can stretch and deform the fabric. Always lay flat or hang to air dry after washing to maintain the original fit. Some knits also require blocking to reshape after drying.
Avoid chlorine bleach - Chlorine bleach can degrade the fibers in knits over time, causing them to lose softness and elasticity. Opt for non-chlorine bleach or oxygen bleach as needed.
Loosen tight knits - If your knitted shirt seems to have tightened or become less stretchy after washing, wet the garment and gently stretch it to its original dimensions while damp. Lay flat to dry to help restore some of the elasticity.
Use a gentle laundry detergent - Choose a detergent specifically labeled for delicate or hand wash items. Regular detergent can be harsh and cause pilling or fuzzy spots on knitwear.
In short, knitted shirts represent the perfect combination of comfort, style and versatility for any man's wardrobe. Their soft, breathable and lightweight knit fabric provides an unparalleled level of comfort and ease of movement. Whether you prefer classic breton stripes, intricate argyle patterns or simple solid colors, a well-fitting knitted shirt can effortlessly upgrade your style while keeping you relaxed and unfettered. Yep, indeed help you creat an effortless look! Knitted shirts truly embody the idea of clothing that enhances comfort while complementing personality, making them indispensable wardrobe basicsfor modern men.
Read More
---