Sustainable Style: Exploring Coofandy's New EKO-TEX Linen Fashion Line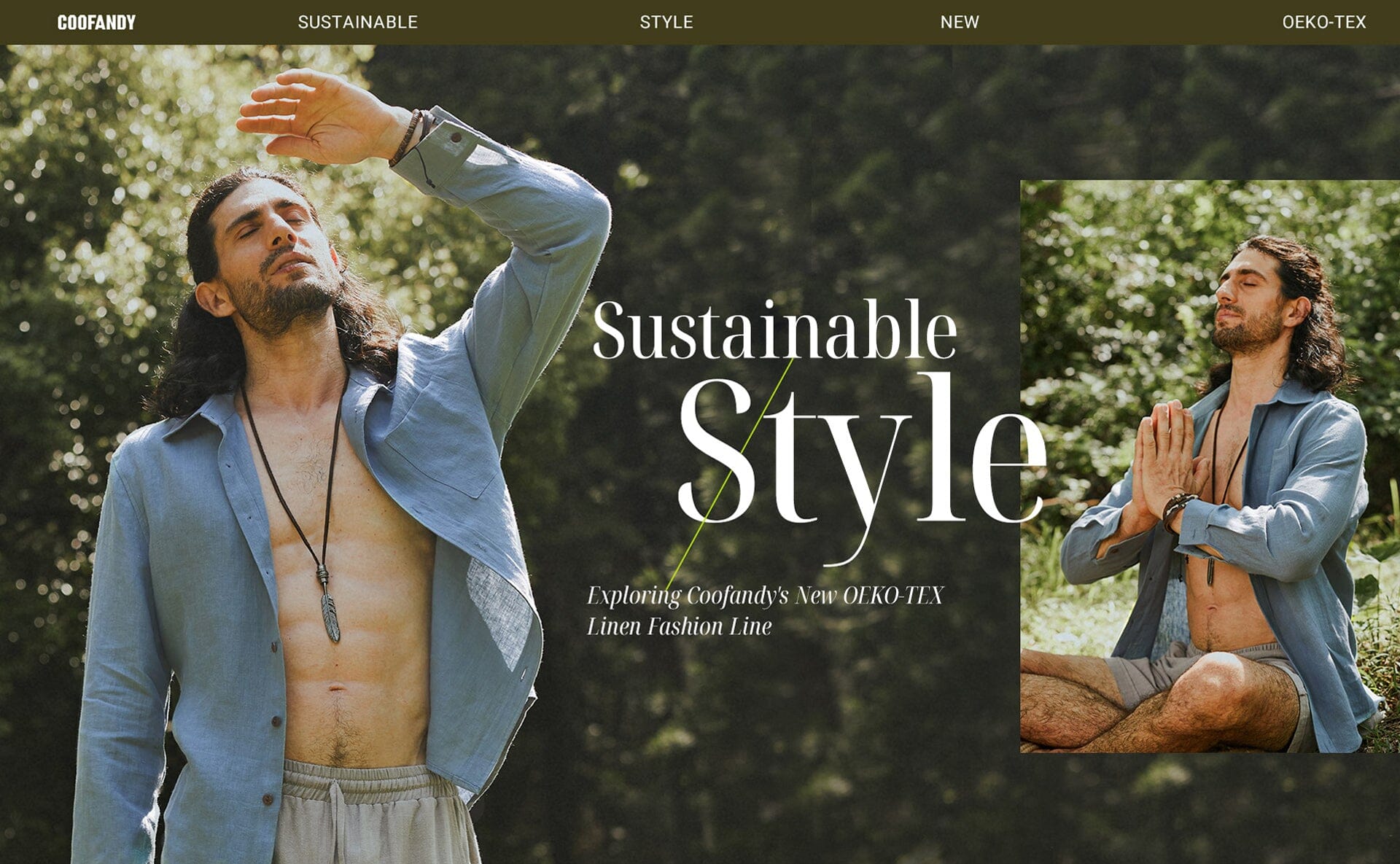 Navigation
Eco-conscious consumers now have a stylish new sustainable clothing option to add to their wardrobe. Leading fashion brand Coofandy has just launched an earth-friendly linen line certified by the OEKO-TEX standard for textile safety. Read on to learn about Coofandy's latest offering and the benefits of OEKO-TEX linen clothing.
Overview of the New Linen Line
Coofandy is an established direct-to-consumer fashion label known for its timeless, minimalist aesthetic and focus on high-quality natural fabrics. Its previous collections have mainly featured linen, cotton linen, and other high-tech pieces in muted color palettes tailored for effortless layering and everyday wear. This new linen line from Coofandy embodies the brand's signature look while incorporating more environmentally friendly design practices.
The debut linen collection includes a range of breezy tops, pants, and coordinating sets perfect for all seasons. Billowy trousers, boxy linen button-downs, and roomy shackets make up the basics of the line, offered in both muted and bold tones like khaki, black, and sky blue. The relaxed silhouettes and lightweight linen fabric promise both style and comfort.
Benefits of OEKO-TEX Certified Material
So why choose OEKO-TEX certified linen clothing? The OEKO-TEX Standard 100 label certifies that textiles and products have been tested for harmful substances and are completely safe for human use. To earn OEKO-TEX accreditation, all components from fabrics to trims, dyes, and accessories must meet stringent criteria through independent testing. This comprehensive process ensures clothes like Coofandy's linen offerings are free from over 100 potentially dangerous chemicals. With OEKO-TEX certification, consumers can trust they are buying a genuinely non-toxic, clean product.
Linen Fabric Qualities
Beyond responsible production, linen as a fiber offers many inherent sustainable qualities. Linen is biodegradable, meaning items will completely decompose rather than pile up in landfills. The flax plants used to derive linen require less water and pesticides to grow compared to conventional cotton. Linen manufacturing also generates relatively low emissions and waste. Though costlier to produce than cotton, linen clothes are highly durable, often becoming softer and better looking with age. With proper care, linen pieces like Coofandy's new styles can last for many seasons.
In addition to its eco-friendly origins, linen is revered for its exceptional comfort in warm weather. The textile is highly breathable, promoting airflow against the skin to maintain coolness. Linen's absorbent fibers also allow it to dry quickly. Garments don't cling when humid or sweaty, making linen a top pick for wearing in hot climates. Linen also has a relaxed, slightly rumpled look and lightweight drape that adds to its warm weather appeal. Easy, comfy linen separates like those in Coofandy's new collection lend themselves perfectly to achieving casual style.
Coofandy's Commitment to Sustainability
While this linen offering is Coofandy's first major foray into eco-conscious textiles, our brand has demonstrated a commitment to sustainability across business practices. Coofandy aims for full supply chain transparency and partners with suppliers using recycled fabrics and other initiatives to lower environmental impact. As a direct-to-consumer company, Coofandy also minimizes waste by producing made-to-order pieces. This latest OEKO-TEX certified collection signals Coofandy's growing focus on sustainability in tandem with its pared-back, contemporary luxury fashion vision.
For shoppers seeking out ethical fashion, Coofandy's certified linen line makes for a smart warm weather investment. Breathable linen construction and relaxed silhouettes pair functionality with the OEKO-TEX promise of safety, while Coofandy's signature tailored minimalism gives the pieces polish. Most of all, customers can feel good knowing their purchase aligns with both style and sustainability values. Check out Coofandy's website to browse the full linen collection and get ahead of the curve with this season's chicest sustainable fashion staple.
Read More
---