What are Men's Outerwear Trends for Fall 2023?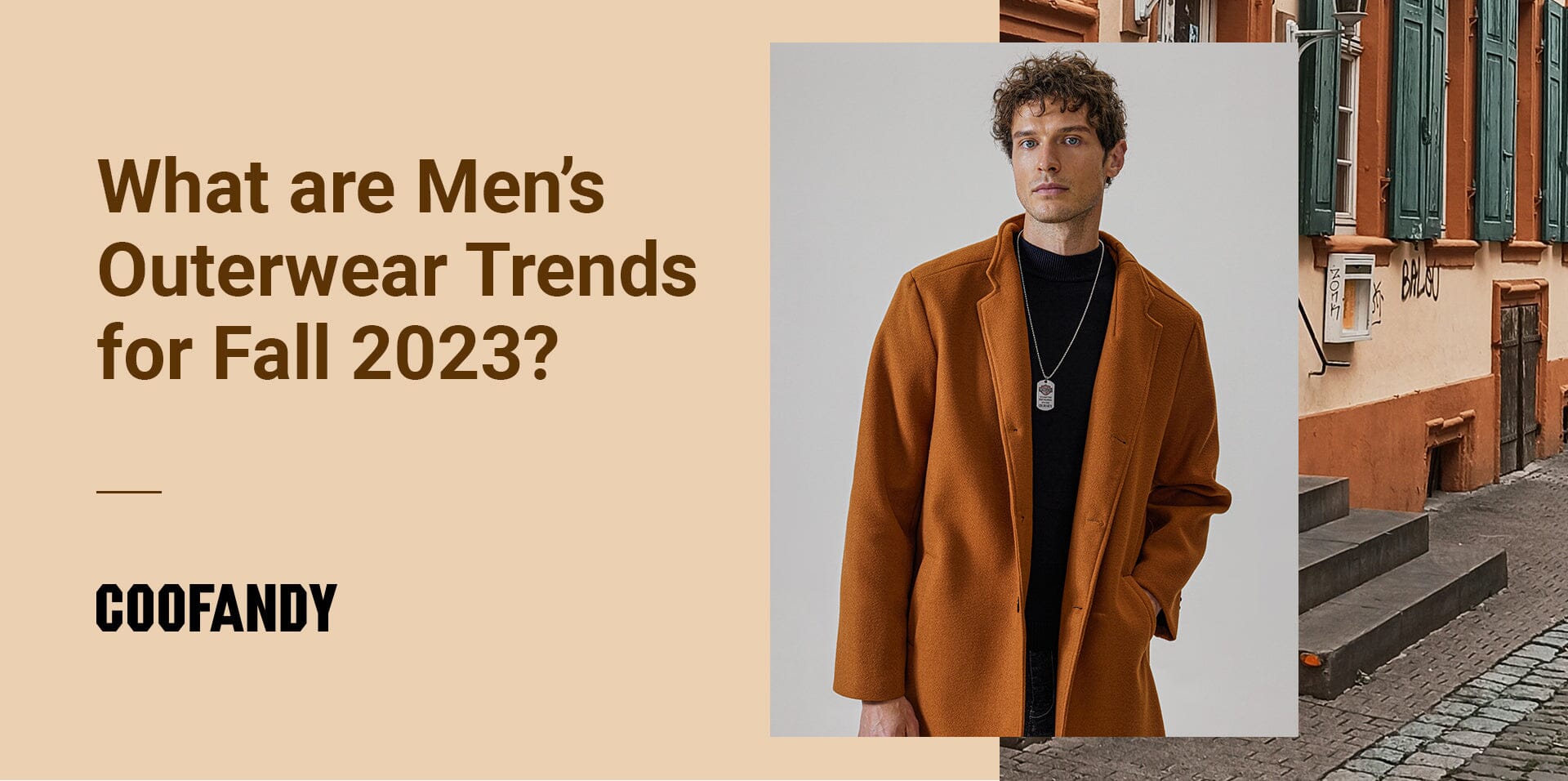 Navigation
The brisk air and falling leaves can only mean one thing - it's time to break out the jackets and coats! As the weather cools down, our fall wardrobe tends to level up. Outerwear presents the perfect opportunity to upgrade your style for the new season.
We all get that irresistible urge this time of year to sport a killer new coat that keeps us warm while looking totally on-point. From timeless trench coats to fleece-lined jackets perfect for a day out at the pumpkin patch, there are so many stylish choices for fall. This year's outerwear options allow you to effortlessly layer up in both comfort and contemporary flair.
Ready to explore the hottest trends dominating men's coats and jackets this fall? Let's dive into the fabrics, silhouettes, and details you'll be seeing everywhere in 2023.
Stylish Single Breasted Tweed Coat
Oversized Fits Steal the Spotlight
Of all the emerging styles, oversized outerwear is shaping up to be the "it" look for fall. These roomy, exaggerated silhouettes provide both cozy comfort and modern style. Oversized coats and jackets allow you to layer comfortably over chunky sweaters and hoodies.
Fashionbrands are embracing laidback, relaxed vibes with these slouchy top layer options. Keep an eye out for boxy peacoats, elongated trench coats, and cocoon-shaped puffers that convey effortless nonchalance. A bomber jacket with an extra boxy cut also nods to the popular 90s aesthetic.
When sporting the oversized look, balance the volume on top with slimmer pants or jeans below. This creates a bit of contrast while allowing the coat itself to remain the statement piece.
Earth Tones Provide a Grounding Palette
In terms of color, earthy, natural tones are having a major moment this fall. With all the uncertainty in the world lately, subtle earth tones provide a sense of comfort and security. The innate softness of these colors helps instill the cozy fall feeling we crave.
Look for jackets featuring rich moss greens, warm camel hues, chocolate browns, rusty oranges, and natural tans. Fabrics like wool, suede, and corduroy perfectly complement these grounded shades as well. Pairing an earth-toned coat with denim or olive pants feels totally harmonious.
Beyond earth tones, timeless black and gray persist as classic choices for mens outerwear this season. Off-white and camel continue trending as elegant neutrals too. Statement shades also emerge in the form of bold reds, military greens, or vibrant jewel tones.
Coofandy Trendy Solid Tweed Blazer
Coofandy Casual Button Denim Jacket
Technical Performance Fabrics Elevate
Functionality
Innovative technical fabrics thrive this fall as both fashion-forward and functional choices for men's coats and jackets. Performance materials like GoreTex and PolarTech offer weather protection, breathability, and stretch - ideal features for navigating the elements in style.
Athletic brands have also knocked outerwear out of the park lately. Their focus on fabrics designed for optimal movement and environmental protection provides an intriguing option for men's jackets. Whether hitting the trails or just walking to work, technical coats enhance comfort in any condition.
Details Make All the Difference
It often comes down to the details when selecting the perfect jacket. This fall's outerwear showcases zippers, toggles, contrast panels, and embroidery as ways to make your top layer stand out.
For example, a peacoat with leather elbow patches adds visual interest and durability. The rich texture and timeless pattern of corduroy makes it a classically stylish choice. Strategic pocket placement also lends functionality and dimension. Oversized zipper pulls or toggles along a jacket's front work to elevate a simple silhouette. Play around with complementary textures and accents when choosing your statement coat this season.
The Finishing Touch to Any Outfit
When autumn arrives, outerwear presents that final seasoning to pull your whole look together. The jacket you select has the power to either upgrade your outfit or throw off its balance. Carefully chosen outerwear flawlessly ties together yourshirt, pants, and shoes into one cohesive Fall vibe.
Whether you gravitate towards a cropped corduroy bomber, suede overcoat, or quilted puffer jacket, your coat choice makes all the difference. Use this overview of the top 2023 men's outerwear trends to thoughtfully curate your autumn wardrobe.
Stay tuned for more tips on nailing men's fall fashion this season. And don't be afraid to layer it on! Mixing lightweight jackets, overshirts, and scarves can provide warmth while also showing off your personal style. However you decide to sport it, outerwear gives you the chance to complement the beautiful fall backdrop in your own original way.
All Outwears collection to explore: Outwears
Read More
---