10 Outfit Ideas for Work and Weekend - 2023 Winter Double-Breasted Tweed Coat Styling Guide: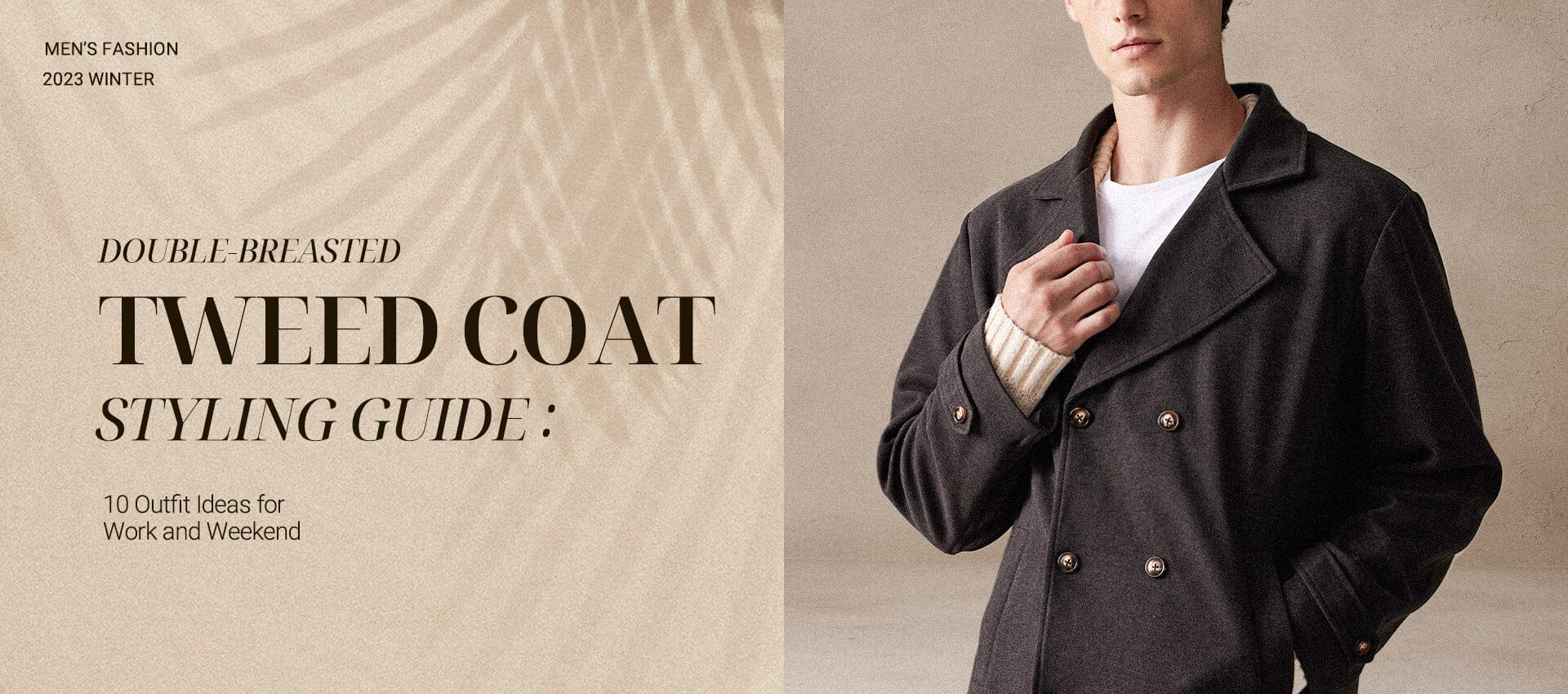 Navigation
A double-breasted tweed coat is a timeless menswear staple that adds polish to any outfit. With its structured silhouette and tactile texture, a tweed topcoat commands attention. But the question remains - how does the modern man style this classic piece for the office or weekend?
The key is choosing complementary pieces that balance the coat's old-school elegance with contemporary flair. Read on for expert tips and 10 stylish outfits built around the double-breasted tweed coat.
Tailored Looks for the Office
The tailored structure of a double-breasted coat makes it ideal for elevating professional office outfits. For important meetings and commutes, layer the coat over suiting essentials:
The Power Broker
Exude executive elegance and authority with this sharp power suiting look. A crisp white button-down shirt provides a neutral foundation, tucked into expertly tailored trousers for a seamless silhouette. Opt for a woven wool style with a touch of stretch for optimal comfort and polish. On bottom, lace up oxford shoes in a rich leather. Oxfords' professional profile commands respect. Finally, top with the structured double-breasted tweed coat to tie the professional ensemble together. This boardroom-ready outfit means business.
Premium Double-Breasted Tweed Coat
Peak Lapels
Bring dimension to professional looks with tactile layers. Start with a heritage-inspired herringbone dress shirt in cotton or wool. Pair it with a fine merino or cashmere sweater vest in a neutral tone. The sweater vest adds warmth while maintaining a streamlined shape under the tweed coat. On bottom, wear seasonally-appropriate wool trousers for versatility from client meetings to commutes. Finish with leather brogues for a touch of polish. Then slip on the tweed coat for a textural top layer that completes the layered business ensemble.
Lapel Double-Breasted Tweed Coat
Creative Commute
Blend style and comfort with this outfit perfect for commutes or nights out after work. Begin with a sleek merino wool turtleneck sweater in a rich hue like navy or forest green. Tucked into slim yet stretchy chinos, this creates a put-together base layer. Then, finish the leg with Chelsea boots. Their elastic sides make them a breeze to slip on and off on the go. Finally, top with the heritage double-breasted coat. With its tailored structure and timeless fabric, it elevates the refined casual look while keeping you warm during transit.
Classic Solid Long Tweed Coat - Stylish & Comfortable
Boardroom Ready
Command attention at critical presentations and meetings in this powerhouse professional getup. It starts with a dress shirt in standout geometric print or textures like herringbone. Tuck it into seasonally-appropriate wool trousers for an enviable silhouette. Next, polish the look in leather cap toe oxfords, ideal for all-day wear. And finish with a striking repp stripe tie. Pull the business ensemble together with the structured double-breasted coat. You'll exude confidence and executive presence.
Startup Chic
The modern startup workspace calls for business casual style with a creative edge. A double-breasted tweed coat elevates this aesthetic for the entrepreneur on the go. Channel the energy of Silicon Valley and Brooklyn coworking spaces with an ensemble that blends polish and unconventional flair.
Start with a roll neck sweater in a minimalist hue like charcoal or heather gray. The tucked neckline and fitted cut create a streamlined silhouette, while the knit texture adds subtle dimension. On bottom, pair tailored dress pants cut from a rich material like twill or tropical wool. Opt for a modern cropped length that hits just above the ankle for a contemporary vibe.
Stylish Notched Collar Tweed Coat
Relaxed Weekend Styles
On the weekends, a tweed coat adds refined edge to casual staples like denim and knitwear:
Off-Duty Refinement
Bring a polished edge to weekends in this relaxed yet refined look. Start with an Oxford cloth button-down shirt in a muted earth tone like light blue or ecru. Oxford cloth is casual yet tailored. Tuck into slim-fitting dark selvedge denim for a bit of texture. Finish the legs with minimal white leather sneakers to keep the look clean and modern. Finally, top it off with the structured double-breasted tweed coat to tie the outfit together. It contrasts the casual layers with heritage sophistication.
Warm Windproof Fur Collar Coat
Rustic Explorer
Embrace cabincore and the great outdoors in this rustic-inspired weekend ensemble. Begin with a chunky fisherman's sweater in cozy wool. Choose a traditional pattern like cable knit or Aran for timeless flair. Pair with lived-in straight leg jeans for a relaxed fit, along with hardy lace-up boots. Boots' rugged appeal complements the heritage nature of the coat. Top with the tweed coat to meld old-school elegance with casual comfort.
Stylish Double-Breasted Tweed Coat
Cafe Cool
Brunch just got a whole lot sharper in this laidback coffee shop outfit. Start with a soft thermal henley shirt with classic long sleeves. On bottom, wear slim joggers or tapered sweatpants and leather lace-up boots for an elevated twist on athleticwear. The boots' leather texture and lace-up front contrast the casual joggers for an unexpected combo. Finally, finish with the refined double-breasted coat. Its tailored appeal brings polish to the comfy-cool look.
Comfy Embroidered Fur Collar Coat– coofandy
Retro Revival
Channel vintage mid-century style in this dapper weekend ensemble. Begin with a slim-fitting merino wool turtleneck in a rich fall tone like forest green or camel. Tuck into cropped wool trousers cut just above the ankle for a retro silhouette. On bottom, polish up the look with suede penny loafers. Their old-school vibe matches the heritage appeal of the tweed coat. Finally, don the structured tweed coat to bring it all together for a fashionable retro-inspired aesthetic.
Step Out in Style with our Double-Breasted Tweed Coat
Urban Lumberjack
Put a modern spin on outdoorsy style with this urban woodsman look. Start with a graphic-print tee in black and white for high-contrast impact. Pair with black denim jeans for a slim, sleek fit through the legs. Then finish the bottom half with classic white leather sneakers that pop against the darker layers. Top with the traditional tweed coat to reinvent the lumberjack look with city edge. Walk the streets with rustic flair meets modern cool.
Classic Mid-Length Lined Tweed Coat
A Coat That Only Gets Better
The beauty of a well-made double-breasted tweed coat is that it evolves character with age. Follow these tips for making a timeless investment piece your outfit anchor.
Transition it effortlessly from office hours to weekend adventures by complementing the coat's dapper structure with casual textures like denim and knits. Then finish with modern details like cropped trousers and minimal white sneakers to bridge past and present.
With thoughtful styling, this menswear staple only gets better with time. Use these 10 outfit ideas to inspire your own tailored tweed looks. A coat this iconic deserves a spot in every stylish man's wardrobe rotation.
Read More
---